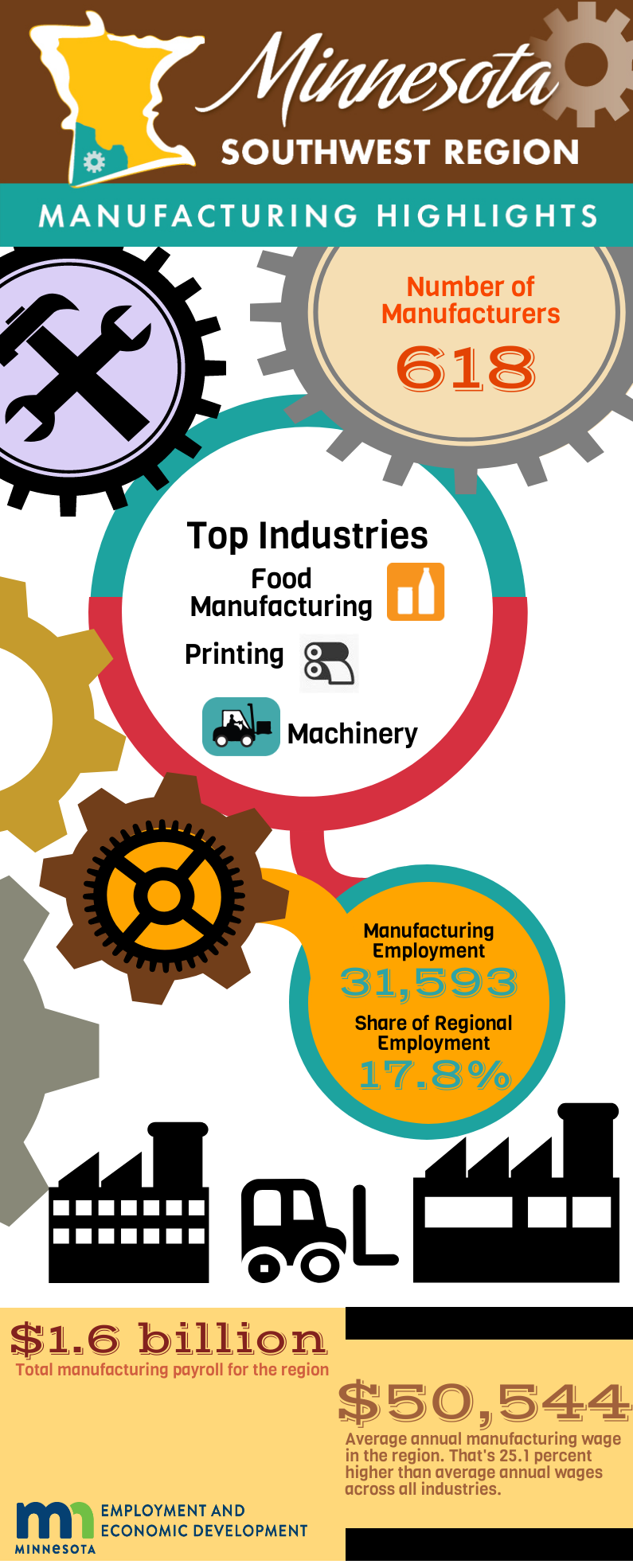 According to DEED's Quarterly Census of Employment and Wages (QCEW) data, the 23-county Southwest Minnesota region was home to 618 manufacturing establishments employing an annual average of 31,593 jobs through 2017. Manufacturing provided 17.8 percent of total employment in the region, making it the largest industry just ahead of health care and social assistance (31,106 jobs) and well ahead of retail trade (20,370 jobs). Southwest is the only region in the state where manufacturing is still the largest employing industry.
These manufacturers provided about $1.6 billion in total payroll in 2017, making it the largest industry in terms of payroll. Average annual wages in manufacturing were $50,544 in 2017, which was over $10,000 and 25 percent higher than the total of all industries (Table 1).
Food manufacturing was easily the largest sector, with 11,077 jobs at 109 establishments, and just under $572 million in total payroll. Southwest Minnesota has 23.3 percent of statewide employment in food manufacturing, and had the largest number of food manufacturing jobs of the six planning regions in the state. The largest subsectors in food manufacturing include animal slaughtering and processing (5,428 jobs), dairy product manufacturing (1,938 jobs), fruit and vegetable preserving and specialty food manufacturing (1,596 jobs), grain and oilseed milling (975 jobs), animal food manufacturing (472 jobs), and bakeries and tortilla manufacturing (274 jobs).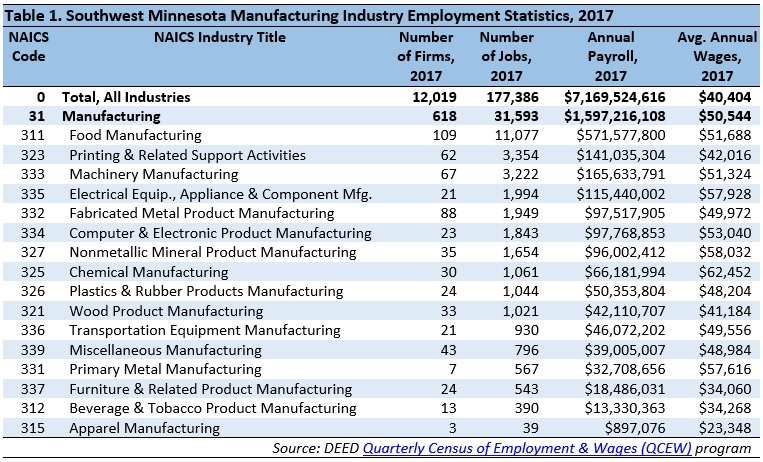 The second largest manufacturing sector is printing and related support activities, which had 3,354 jobs at 63 establishments through 2017, and was also much more strongly concentrated in Southwest Minnesota than the state, with a location quotient of 2.4. Machinery manufacturing is the third largest sector, with 3,222 jobs at 67 establishments. That gave the region a location quotient of 1.6, exhibiting a much higher concentration than the state. Combined, these three large sectors provided 56 percent of total manufacturing jobs in the region.
Average wages in manufacturing ($50,544) were 25 percent higher than the total of all industries ($40,404), led by high average wages in chemical manufacturing ($62,452), nonmetallic mineral product manufacturing ($58,032), electrical equipment, appliance, and components ($57,928), primary metal manufacturing ($57,616), and computer and electronic product manufacturing ($53,040).
Manufacturers in Southwest Minnesota cut about 4,000 jobs during the 2001 recession, then enjoyed a slight recovery by regaining 1,580 jobs from 2003 to 2008. However, the region's manufacturers suffered more job losses during the recession from 2008 to 2010, dropping 4,000 jobs in two years, to a low of 30,402 jobs in 2010. Since then, manufacturers have again enjoyed a slow but steady recovery, regaining about 1,200 net new jobs from 2010 through 2017 (Figure 1).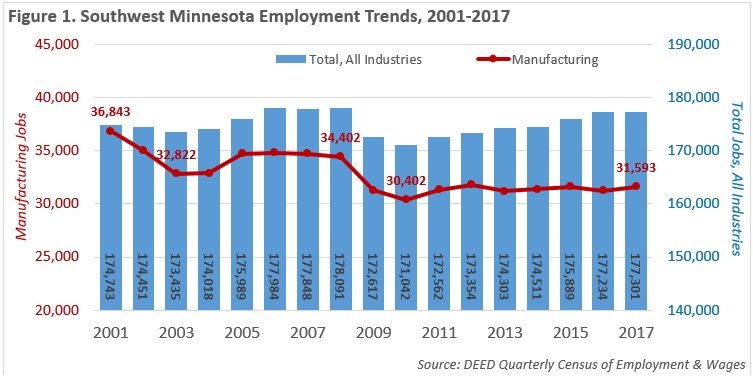 Despite the recent recovery, manufacturers in Southwest Minnesota still have about 3,100 fewer jobs now than ten years ago, in 2007. Manufacturing employment was down 8.9 percent from 2007 to 2017, while the total of all industries has almost reached its pre-recession peak and is now down just 547 jobs compared to 2007, a 0.3 percent decrease in jobs.
The biggest job declines in the past decade occurred in printing and related support activities, which stamped out 2,275 jobs, computer and electronic product manufacturing, which sliced over 1,000 jobs, and machinery manufacturing, which cut almost 700 jobs from 2007 to 2017. The region also suffered large declines in the transportation equipment manufacturing subsector, which eliminated over 35 percent of their employment since 2007.
In sum, half of the 16 manufacturing sectors had fewer jobs in 2017 than in 2007, with all eight of those subsectors losing 10 percent or more of their employment. In contrast, eight subsectors saw employment growth since 2007, with the largest job gains occurring in food manufacturing, which added 1,106 jobs, and nonmetallic mineral product manufacturing, which gained more than 500 jobs. Southwest Minnesota also saw important job gains in beverage, fabricated metal products, plastics and rubber products, miscellaneous, and chemical manufacturing.
Similarly, eight of the 16 subsectors added jobs in the past year. Like the 10-year trends, the biggest gains were in food manufacturing, accounting for 603 net new jobs. Chemical manufacturing – which includes ethanol production – also saw a big increase since 2016, adding 135 jobs, a 14.6 percent rise. Beverage manufacturing also grew more than 14 percent in the past year. In contrast printing, nonmetallic mineral product, machinery, computer and electronic product, and miscellaneous manufacturing suffered the biggest job losses since 2016 (Table 2).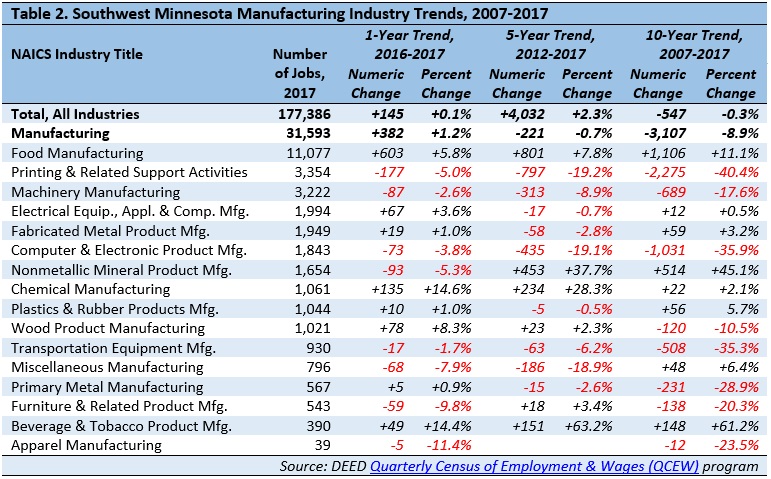 For More Information
Contact Luke Greiner or Mark Schultz.