After ending 2017 with an average annual unemployment rate of 3.7 percent, tied for the lowest rate on record since 2001, employers in Southwest Minnesota are crying out for workers to fill their jobs. Of the 221,500 available workers in the labor force, just 8,100 were unemployed.
During that same time frame, employers in the region also set a record for the highest number of job vacancies posted since 2001, with 9,015 openings reported in the most recent Job Vacancy Survey. At that level, there were more job vacancies than job seekers to fill them.
The 9,015 openings were more than four times the lowest amount posted during the bottom of the recession in 2009, and were 63 percent more than the first survey conducted back in 2001. It was also a 25 percent increase compared to the previous record in the second quarter of 2015, when employers reported just over 7,200 vacancies (Figure 1).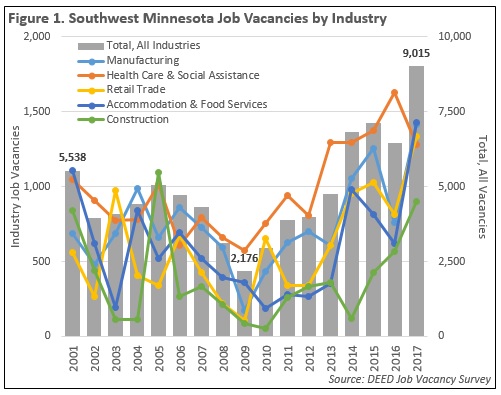 Over 70 percent of the current vacancies are found in just five industries: accommodation and food services, manufacturing, retail trade, health care and social assistance, and construction. All five of those industries have seen a rapid increase in demand since the recession, with both retail trade and construction seeing 1000 percent jumps.
The tight labor market and persistent demand in the region is leading to rising wages, especially in the lowest wage industries. For example, the median wage offer in accommodation and food services rose from $7.23 per hour in the second quarter of 2014 to $9.96 in the second quarter of 2017, a 38 percent increase. Likewise, wage offers jumped 17 percent in retail trade over the past three years, from $9.64 to $11.30 (Figure 2).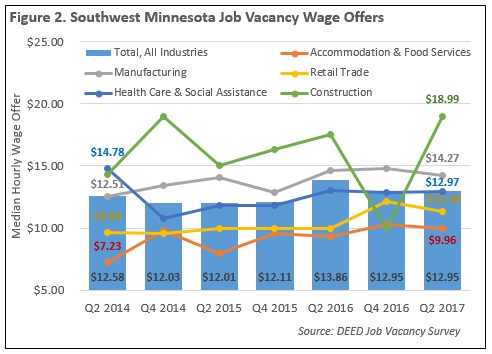 With 1,417 job vacancies in the second quarter of 2017, the manufacturing industry accounted for about 16 percent of total vacancies in Southwest Minnesota, compared to just 9.1 percent of total vacancies statewide. Manufacturing's share of total vacancies was higher in Southwest Minnesota than the state in all but one of the past 17 years, even doubling up the statewide share in three years.
The largest number of production openings were for packaging and filling machine operators, team assemblers, welders, slaughterers and meat packers, and food batchmakers; all of which are in high demand in Southwest Minnesota. Wage offers were highest for welders at $18.32 per hour, and lowest for packaging and filling machine operators, at $10.91.
For More Information
Contact Luke Greiner at 320-308-5378 or Mark Schultz.