With 7,245 job vacancies in the fourth quarter of 2014, employers in Southwest Minnesota reported the highest number of job vacancies ever during the most recent round of DEED's Job Vacancy Survey. This was an increase of 800 job openings since the second quarter of 2014, and 2,500 more vacancies than the fourth quarter of 2013.
While the number of job openings in the region was going up, the number of unemployed workers was going down. The 23-county Southwest Minnesota planning area had an average of just over 7,100 unemployed workers in the fourth quarter of 2014, meaning the region had slightly more job vacancies than available workers, creating a very competitive labor market.
Essentially, Southwest Minnesota now has a one-to-one ratio of job seekers to job vacancies, the lowest ratio on record. The region had about 2 job seekers per vacancy prior to the recession, and got as high as 6.3 job seekers per opening during the nadir of the recession in the fourth quarter of 2009 (see Figure 1.)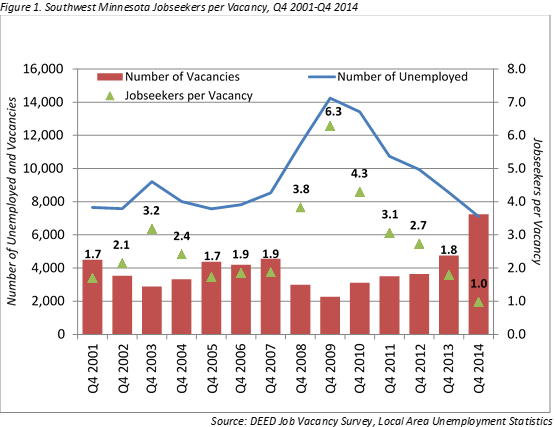 With the labor market tighter than ever in Southwest Minnesota, businesses that are looking for available workers may need to expand their searches, modify their requirements, or increase their wages to attract new candidates.
To that end, the median wage offer for job vacancies in Southwest Minnesota increased from $10.15 per hour in the fourth quarter of 2013 to $12.03 in the fourth quarter of 2014, despite huge increases in the number of job vacancies in lower wage job categories like food preparation and serving related occupations, building and grounds cleaning and maintenance occupations, and sales and related occupations.
The region also saw big gains in the number of vacancies in higher paying occupational groups, including protective services; transportation and material moving; installation, maintenance and repair; education, training, and library; and construction and extraction occupations.
As the economy continues to expand and the labor market continues to contract, employers may find it hard to compete for available workers.
For More Information
Contact Luke Greiner at 320-308-5378 or Mark Schultz.