Because of our growing and aging population, it is well known that health care and social assistance is projected to gain the most jobs of any industry over the next decade. According to DEED's Employment Projections data, the industry is projected to gain over 4,000 net new jobs in the 23-county Southwest Minnesota planning region from 2012 to 2022, accounting for over 70 percent of total job growth in the region.
What might be less well known is that just under 2,000 of those jobs are expected to be added in long-term care, which is defined by the U.S. Dept. of Health and Human Services as a range of services and supports that people may need to meet their personal care needs. Most long-term care is not medical care, but rather assistance with the basic personal tasks of everyday life. This includes care to people who have a chronic illness or disability, and can be provided at home, in the community, in assisted living or in nursing homes.
Traditionally, many older people or people with disabilities have depended on the services of a skilled nursing home facility, where they receive around-the-clock help with daily living activities and care needs. Even as the state and region's population has grown older, however, nursing care facilities have actually seen a decline in employment over the last decade, as both consumers and the state and federal government embrace alternatives to nursing homes.
Family members provide the majority of long-term care outside nursing care facilities, but those needing the care do not always have someone to depend on or have increasing needs that become too much to handle. This leads to a growing portion of long-term care being purchased from professional or paraprofessional service providers. In response to this shift, services for the elderly and disabled, home health care, and community care facilities are projected to be among the fastest growing sectors in the entire region. Despite seeing the smallest increase, nursing care facilities continue to be the largest employing sector in long-term care (see Table 1).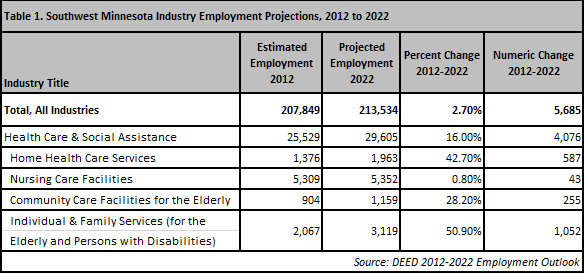 Even with the promise of growing and on-going demand for hundreds of new jobs in the foreseeable future, the long-term care industry often struggles to attract new workers. Many of the occupations in demand in long-term care have lower educational and training requirements, offer lower wage and benefit packages, and consequently have higher turnover rates.
We'll take a look at those occupations in next month's Local Look blog post. In the meantime...
For More Information
Contact Luke Greiner at 320-308-5378 or Mark Schultz.