Creative types are often looking for outlets for their ideas, but they also need technical skills to put those ideas into action. Workers who want to employ both their right and left brains might find the information systems and technology career field to be a great option.
Information technology (IT) workers operate in a rapidly changing environment, which can make the work challenging and exciting. As such, many computer-related occupations require a mix of both creativity and analytical skills, and are in high demand in Southwest Minnesota.
Employers in the 23-county Southwest Minnesota planning region reported the 4th highest amount of openings for computer-related occupations in 2016, after experiencing a 50 percent increase in demand compared to 2015. All of the largest IT occupations in Southwest Minnesota are among the highest-ranked occupations in demand, and many are also expected to grow faster than the total of all occupations over the next decade (Table 1).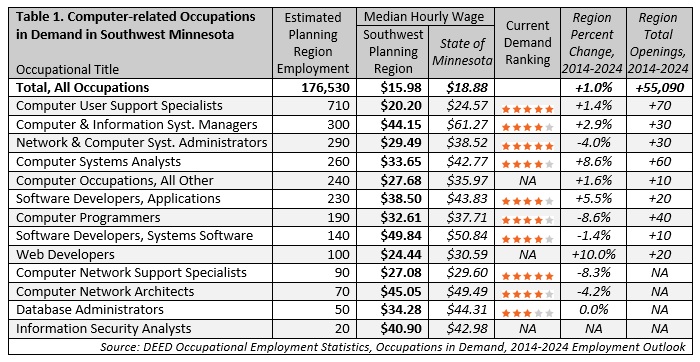 Many of these jobs are high-paying, with median hourly wages well above the total of all occupations. For example, Software Developers, Computer Network Architects, and Computer and Information Systems Managers all earn nearly three times as much as the region's median hourly wage. At the median, every computer-related occupation was earning over $20 per hour in the region, and eight of them were earning at least $32 an hour, double the region's median hourly wage.
Job seekers in the region who are interested in learning more about the rewarding and rapidly changing IT career field can find much more useful information – including required education and related college programs – by using DEED's Career and Education Explorer Tool.
For More Information
Contact Luke Greiner at 320-308-5378 or email luke.greiner@state.mn.us or Mark Schultz.