The tight labor market continues to confound Southeast Minnesota employers looking to fill open positions. According to DEED data, the available labor force in Southeast dropped by over 5,000 workers over the past 2 years, from December 2019 to December 2021, ending the year at 283,570 workers.
The region had seen rapid labor force gains over the past decade, bumping up more than 9,000 workers since December 2011, but the recent declines may be part of a longer-term trend. Labor force projections created using population projections from the Minnesota State Demographic Center show an anticipated loss of about 2,350 labor force participants from 2023 to 2033, a -0.9% decline.
However, projections from before the pandemic period suggest that employers in the region are going to continue adding jobs in the future according to DEED's Employment Outlook data. In fact, the data shows that the Southeast region is projected to see job growth of 4.2%, equaling 11,552 new jobs, and an additional 122,755 openings due to labor market exits, such as retirements, from 2018 to 2028. With the current tight labor market, employers will have to work hard to fill these job openings.
Not surprisingly because of the region's strength in Health Care & Social Assistance, the largest numeric job growth is anticipated to occur in the Healthcare Practitioners & Technical occupational group, which is slated to increase by 3,725 new jobs. Coming in second is Personal Care & Service (+1,527 jobs), followed by Food Preparation & Serving Related (+1,198 jobs), Construction & Extraction (+1,032 jobs) and Healthcare Support (+1,013 jobs). Together, these five occupational groups account for 73.5% of the projected job growth during this 10-year time period.
Proportionally, the biggest gains are expected to occur among Personal Care & Service occupations (+11.5%), Healthcare Practitioners & Technical occupations (+11.4%), and Construction & Extraction occupations (+10.1%). On the other hand, job loss is projected for four occupational groups, including Office & Administrative Support (-814 jobs), Production (-349 jobs), Arts, Design, Entertainment, Sports, & Media (-50 jobs) and Protective Service (-31 jobs) (see Figure 1).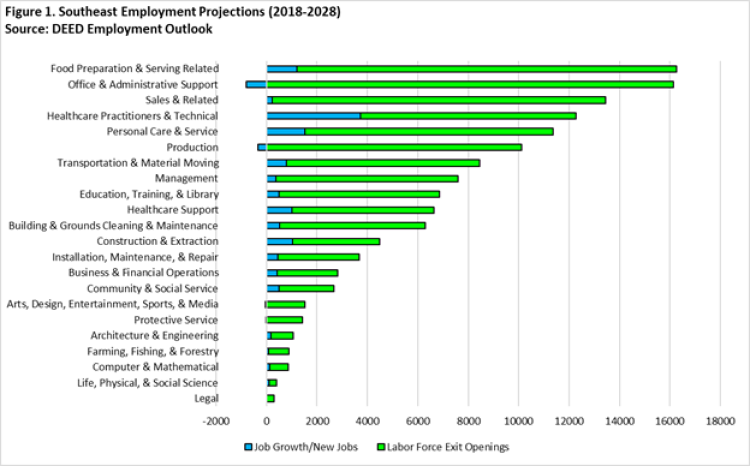 While Office & Administrative Support occupations are not expected to add new jobs, this occupational group is projected to see the highest number of labor market exit openings with 16,131 replacement openings, followed by an increase of 15,059 openings in Food Preparation & Serving Related, 13,230 in Sales & Related, and 10,128 in Production. Together, these four occupational groups account for almost 45% of the total projected openings due to labor market exits.
The question at hand becomes where are employers going to find workers to fill these job openings? Well, there are a few sources of labor that might be tapped into in order to help employers out, including groups with low labor force participation rates and/or high unemployment rates, such as teenagers, BIPOC workers, and people with disabilities. Employers could also begin or ramp up their recruiting from areas outside of the region, including the Twin Cities metro region and the neighboring states of Wisconsin and Iowa. Finally, employers might benefit from re-thinking or loosening their current restrictions on hiring those with a criminal background, depending upon the types of positions for which they are hiring. While these sources of labor won't immediately solve the labor force problem as a whole, they could provide some of the valuable workers that employers need to fill their current and future job openings.
For More Information
Contact Mark Schultz.