From March 16th through June 11th, Minnesota had seen 776,227 workers apply for Unemployment Insurance (UI) benefits, including 62,383 UI applications in the Southeast region. That equals about 21.7% of the 288,108 workers in Southeast Minnesota, based on 2019 labor force estimates from DEED's Local Area Unemployment Statistics data.
Thankfully the number of UI applications has gone down across the board over time, after peaking during the week ending April 4.
Looking at race and ethnicity, workers who identify as white and non-Hispanic made up the vast majority of UI applications in early weeks, while UI applications for People of Color surged in the second and third weeks. Since the peak, the overall decline in UI applications seen by non-Hispanic Whites was much larger than that seen by People of Color. The number of UI applications by non-Hispanic Whites dropped 69.6% from the week ending on March 21st to the week ending on June 6th, while the number of UI applications filed by People of Color declined by only 45.4%.  Because the number of applications filed by Whites was so high right away, that may partially explain why their rate of decline is higher (see Figure 1).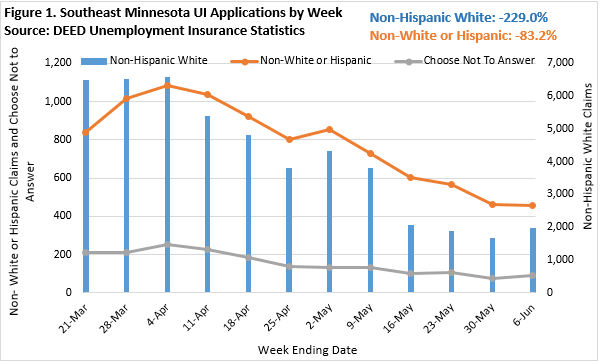 However, during the week ending June 6, the number of UI applications by non-Hispanic Whites actually saw an increase, while the number of applications by people of color has continued to decline.  Part of this may be explained because some of the occupations that have seen an increase in UI applications over this time period are less diverse. For example, computer occupations rose from 15 UI applications during the first week that applications presumed to be related to COVID-19 were tallied (week ending March 21st) to 195 applications during the most recent week in which data is available (week ending June 6th).
Furthermore, while the number of UI applications in some of the occupations with more racially diverse workers, such as food and beverage serving workers and retail sales workers, have dropped significantly, they remain among the occupations that have seen the highest numbers of applications during this 3-month time frame. This also helps explain why the number of applications by People of Color or Hispanic workers have decreased at a lower rate than their White counterparts.
For More Information
Contact Mark Schultz.