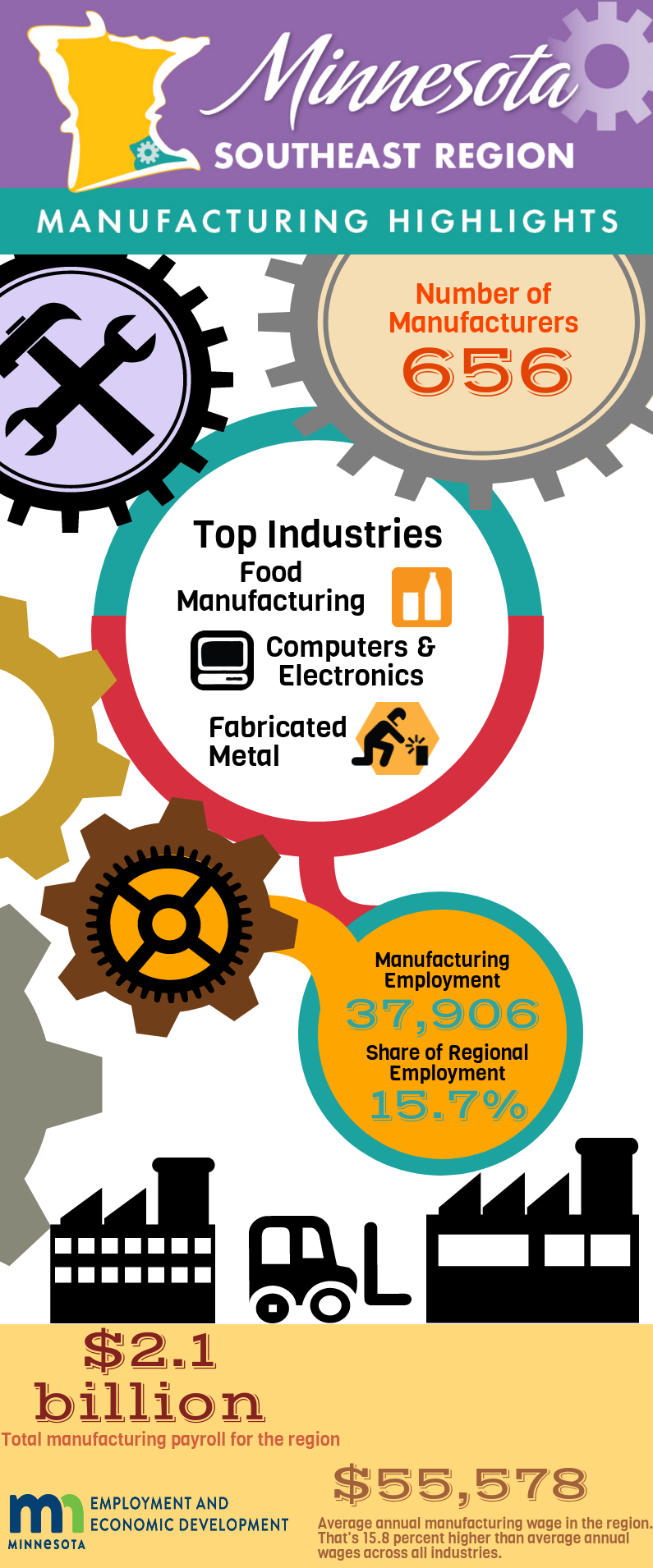 Manufacturing is the second-largest industry in Southeast Minnesota, behind health care and social assistance. The industry provided 37,906 jobs at 656 firms in 2016 – and it accounts for 15.7 percent of total employment in the region – a 0.2 decrease from 2015. However, it was still much more concentrated in the region than in the state as a whole, where 11.3 percent of total jobs are in manufacturing.
From 2011 to 2016, manufacturers in Southeast Minnesota added 1,683 new jobs, an increase of 4.6 percent. That was slightly slower growth than the total of all industries in the region, which expanded 5.4 percent since 2011. Manufacturing accounted for 13.7 percent of total job growth over the past five years. In just the previous year, the number of manufacturing jobs increased by only 13, despite the addition of five manufacturing firms in the region.
Food manufacturing is easily the largest sector, with almost 10,500 jobs accounting for 27.7 percent of total manufacturing jobs in the region. That's followed by computer and electronic products, with just over 4,700 jobs (12.4%); fabricated metal product manufacturing, with just over 4,100 jobs (10.9%); and machinery manufacturing, with about 4,050 jobs (10.7%). Combined, those four sectors account for 61.6 percent of total manufacturing jobs in the region.
Manufacturing also has the second-largest payroll in the region, behind health care and social assistance. Total payroll in manufacturing was over $2.1 billion in 2016, accounting for 18.2 percent of total wages paid across all industries in the Southeast region.
Average annual wages in manufacturing in the region were $55,578 in 2016. That was 15.8 percent higher than the $47,981 average annual wage across all industries. Manufacturing wages in the region increased 8.1 percent from 2011 to 2016, compared to an overall increase of 14.5 percent across all industries.
With average annual wages of $89,440, the highest-paying subsector in manufacturing was computer and electronic products, followed by chemical manufacturing ($65,000), paper manufacturing ($59,644), and non-metallic mineral product manufacturing ($55,692).
Southeast Spotlight: In-Depth Look at Manufacturing Jobs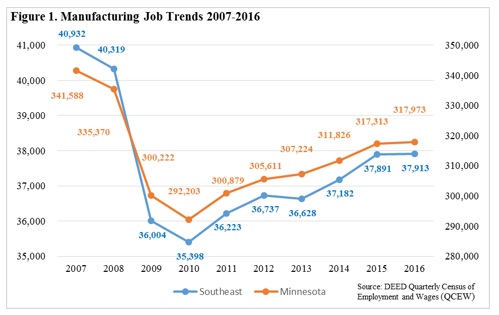 Southeast Minnesota is typically considered a powerhouse when it comes to the manufacturing industry. However, over the last decade, the manufacturing industry has seen its ups and downs. As seen in Figure 1, there was a significant decline in the number of jobs from 2007 to the depths of the recession in 2010.
And while the manufacturing industry has continued to regain jobs since then, it has not fully recovered, having about 3,000 fewer jobs now than it did in 2007. The state of Minnesota also saw a decline of 23,615 manufacturing jobs during that same timeframe – a drop of 6.9 percent, compared to a 7.4 percent decline in the Southeast region.
There are many sectors within the manufacturing industry that have seen declines, some of which have been rather substantial. Numerically, the most significant losses were in computer and electronic product manufacturing, which lost 2,248 jobs, and fabricated metal product manufacturing, which saw a decline of 828 jobs. Transportation equipment also saw a large decrease as a percentage of jobs, dropping 32.2 percent. However, there are other sectors that saw job expansions from 2007 to 2016, including a large gain of 595 jobs in food manufacturing, and hefty percentage gains at textile product mills (46%) and chemical manufacturing (34%) (see Table 1).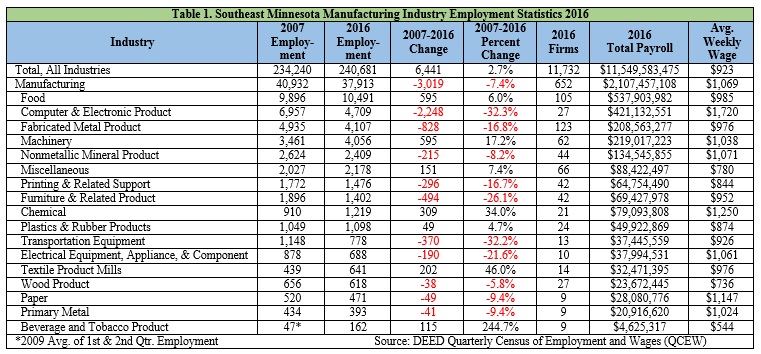 Currently there are 568 vacancies in manufacturing in the region, including 372 vacancies for production occupations, with only 5 percent of those being part-time and 2 percent being temporary or seasonal. As far as experience and education, 19 percent require post-secondary education, 38 percent require one or more years of experience, and 6 percent require a certificate or license. Median wage offers for these vacancies was $13.47 (see Table 2).

There are 23 manufacturing occupations that were showing relatively high demand in the Southeast region, including six that broke into the top 60 occupations in demand (see Table 3). Most of these occupations require a high school diploma or less, and a few require a post-secondary non-degree award (PSNDA) – however, these may be minimum education requirements. Instead, short-term (STOJT), moderate-term (MTOJT) and long-term (LTOJT) on-the-job training appear to be much more relevant to these in-demand manufacturing occupations in the region (see Table 3).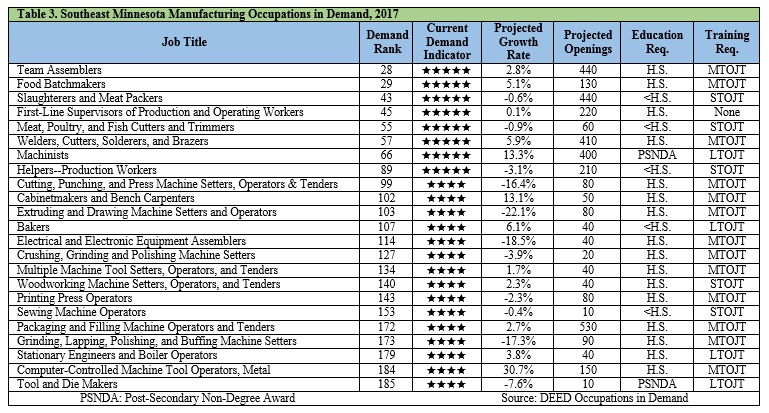 As shown in Figure 2, many production occupation openings are projected for the region from 2014 to 2024. While some of the categories of production occupations are estimated to see few new jobs – and some even show a decrease in existing jobs – all of the categories are expected to see openings due to replacement needs. The largest projected replacement needs are in "other production occupations," which includes occupations such as production worker helpers and inspectors, testers and sorters, as well as metal and plastic manufacturing workers and food processing workers.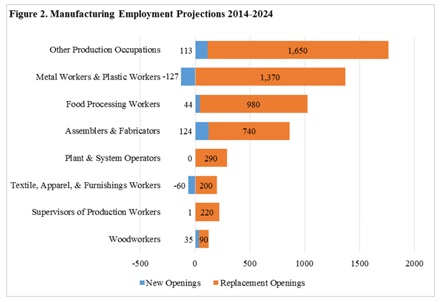 For More Information
Contact Mark Schultz.