What is Wholesale Trade?
Though related, the wholesale trade industry is unlike the retail trade industry. Wholesale trade establishments sell large quantities of merchandise - and services needed for the sale of the merchandise - to other wholesale entities or retailers. According to the Bureau of Labor Statistics, "wholesalers are organized to sell or arrange the purchase or sale of (a) goods for resale (i.e., goods sold to other wholesalers or retailers), (b) capital or durable non-consumer goods, and (c) raw and intermediate materials and supplies used in production."
There are a few distinctions between wholesale trade and retail trade facilities. First, wholesale trade businesses are generally housed in a warehouse or office and characterized by limited, or even no displaying of the items. Second, consumers usually do not walk into wholesale facilities to shop; this type of activity is designated for the retail trade industry. Third, wholesale trade businesses do not typically advertise to the public.
Trends in Wholesale Trade
Another notable difference is the seasonal patterns of hiring activity - creating a paradox when comparing the quarterly data in jobs in wholesale trade and retail trade. While the number of jobs in retail trade typically increase in the last three quarters of the year to accommodate holiday shopping (October 2015 blog post), jobs in wholesale trade decline in the same period.
Wholesale trade typically sees a significant spike in the number of jobs during the second quarter of the year, followed by a slow, steady decline in the remaining quarters of the year (Figure 1). Given that wholesale trade firms sell to retail trade stores, the rising demand for merchandise in retail should lead to a demand for more workers on the wholesale side, but that does not appear to be the case, according to DEED's Quarterly Census of Employment and Wages (QCEW) data.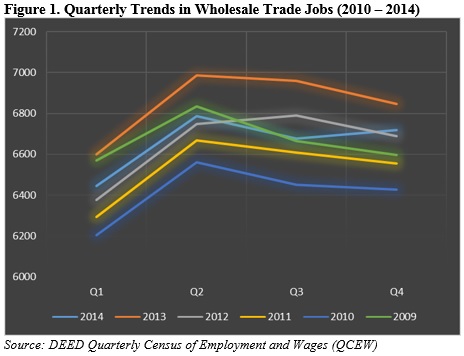 Employment and Wages in Wholesale Trade
Wholesale trade in Southeast Minnesota is comprised of three sectors: Merchant wholesalers of durable goods, merchant wholesalers of non-durable goods, and wholesale electronic markets, agents and brokers. One highlight of jobs in the wholesale trade industry is that they tend to have higher average weekly wages than those across all industries, with the exception of petroleum and petroleum products merchant wholesalers. Wholesale trade only accounts for 2.8 percent of all jobs in the region, but makes up 3.6 percent of the total payroll across all industries (Table 1).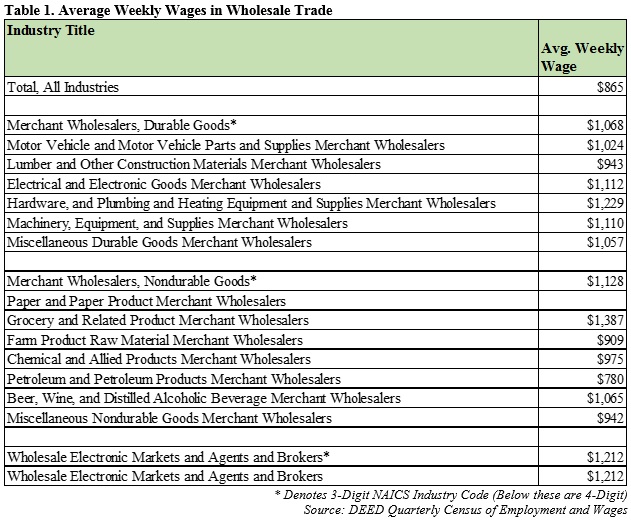 Tying Up the Package
While jobs in wholesale trade may not make up a significant portion of the total jobs across all industries, from 2012 to 2022 it's projected there will be about 370 job openings in wholesale sales representatives. According to DEED's Quarterly Census of Employment and Wages (QCEW), average weekly wages in the wholesale trade sector are the fifth highest among all of the industry sectors in the region, averaging $1,105 per week - meaning projected openings should pay well.
For More Information
Contact Mark Schultz.