According to a recent Star Tribune article, "Health care's a gold mine" for job growth. With the upcoming Destination Medical Center in Rochester, it is reasonable to expect a continued surge in job openings in health care in the future. The venture will create about 40,000 jobs over the next 20 years and "will significantly expand Minnesota's economic base and position Rochester, Minnesota, as the leading global destination for health and wellness," according to the Destination Medical Center website.
DEED's regional employment projections for 2012 to 2022 show that Southeast Minnesota can expect over 13,500 health care job openings during this time period, including 9,480 total openings for health care practitioners and technical occupations and an additional 4,040 in health care support. The most recent Job Vacancy Survey shows there are currently 1,262 vacancies in the region for those two areas within health care.
These projections are promising considering two of three sub-sectors within the industry have actually seen a decline in jobs in Southeast Minnesota over the last five years – both hospitals and nursing and residential care facilities suffered a small drop in jobs (Figure 1). Hospitals lost 139 jobs (1.0 percent) while nursing and residential care facilities saw a loss of 466 (3.8 percent). On the other hand, ambulatory health care services saw an increase of 2,069 jobs (7.6 percent), leading to overall job growth in the health care industry.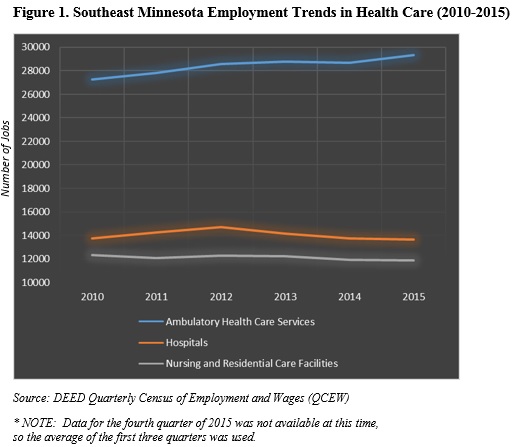 Currently, three of the top four occupations in demand in Southeast Minnesota are in the health care industry; registered nurses and nursing assistants are the top two, and licensed practical and vocational nurses comes in fourth. Additionally, the median hourly wages in the region for registered nurses ($29.26) and licensed practical and vocational nurses ($20.38) are nothing to scoff at, while nursing assistants have a median wage of $12.37 per hour. In fact, many health care occupations do well in terms of hourly wages, with median wages ranging from $11.16 for home health aides to $87.52 for pediatricians (Table 1).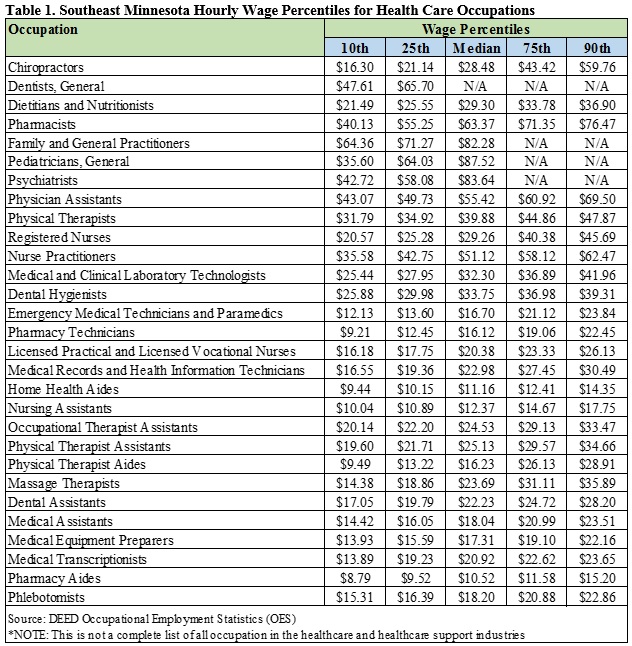 For job seekers considering post-secondary education, data show that graduates that specialized in health care programs seem to be doing fairly well in most cases, according to DEED's Graduate Employment Outcomes tool. Table 2 shows the number of graduates statewide, as well as median annual wages and the percent working full-time and year-round.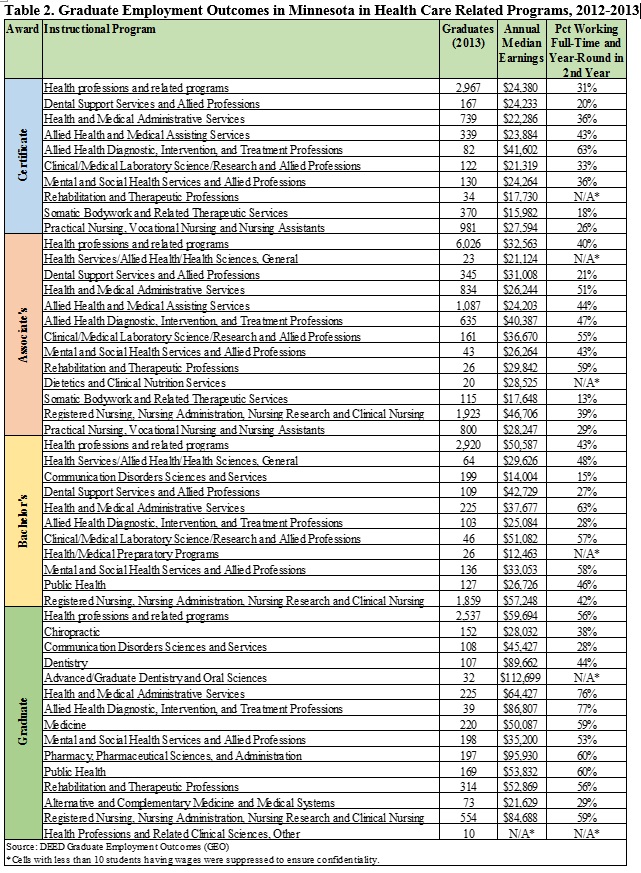 While some of the percentages appear low, especially for those earning certificates, there are two limitations to this data that could account for this phenomenon.
First, the data is only on graduates who worked in Minnesota and are therefore identified in Unemployment Insurance records. This does not include those working for a federal agency, self-employed individuals, or those who gained employment in another state.
Second, graduates who enroll in further schooling and did not seek work do not appear in the wage records. This could especially impact the percent working full-time and year-round for those who earned a certificate or associate degree, as many of them could easily have gone on to further their education.
For anyone looking at a first or a new career – from high school senior planning to attend college to adult looking for a career change – health care is a solid bet in Southeast Minnesota. With plenty of vacancies now and more to come with Destination Medical Center, and good educational opportunities and wages, health care will continue to stay strong in the region.
For More Information
Contact Mark Schultz.