Every year Minnesotans enjoy winter's beautiful snowfalls; however, the season also brings snow, slush, and ice that make for hazardous road conditions. While some jobs take a hiatus due to weather conditions, others require workers to stay on the road in full force to make road conditions as safe as possible for busy drivers.
While people often think of truck, delivery, bus, and taxi drivers as the main workers that have to be on the roads in sometimes treacherous conditions, other occupations are just as important in assisting these drivers to successfully navigate the icy pathways of highways and city streets (Table 1).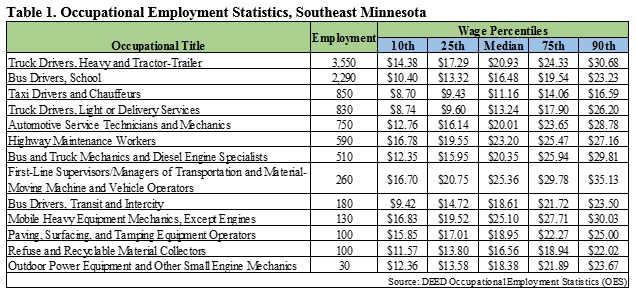 Many other jobs make winter travel possible. Without automotive service technicians and mechanics to repair cars and taxi cabs, diesel engine specialists to work on heavy and tractor trailer trucks, and highway maintenance workers to plow snow off the roads, none of these drivers would be able to continue their work. These jobs make up a sizeable portion of all the employment listed in Table 1 as well.
In general, these occupations pay relatively good wages. All but two – light or delivery service truck drivers and taxi drivers and chauffeurs – have median wages above the basic cost of living in Southeast Minnesota, currently $15.65 for a two-parent family with one child (one parent working full-time and the other working part-time), according to DEED's Cost of Living data tool. Even some of the 25th and 10th percentile wages – usually considered entry-level wages – are higher than needed to meet basic cost of living standards in the region. If both parents are working full-time, each would need to make $12.83 an hour, lower than the 25th percentile wages for all but the two jobs referenced above.
Though important, not all of these occupations are in high demand in Southeast Minnesota. For example, bus drivers, transit and intercity and paving, surfacing, and tampering equipment operators are near the bottom of the Occupations in Demand list in the region. Four other occupations also earned three stars or less for their current demand ranking.
However, six of these transportation-related occupations have a current demand rank in the top 100, led by heavy and tractor-trailer truck drivers coming in at number three overall. Employers in the region are desperately seeking truck drivers, making it a great option for job seekers with a CDL.
And while two of the occupations – bus drivers, school or special client and mobile heavy equipment mechanics – are projected to see negative growth in the next decade, all of the occupations are projected to have demand for new workers from 2014 to 2024, whether from new jobs or replacement hires. In fact, heavy truck and tractor trailer truck drivers are projected to see almost 1,000 openings during this ten-year period, while automotive service technicians and mechanics are expected to need 370 workers, and light truck or delivery services drivers may chalk up another 220 openings (Table 2).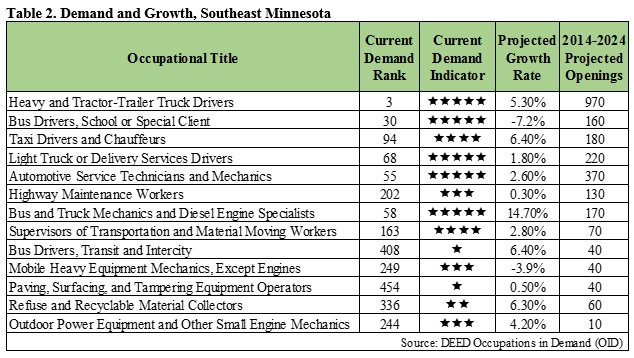 Most of us can't escape the sometimes ominous driving conditions that our winters provide. Fortunately, there are people employed in occupations that provide and allow for the transportation of people, goods, and services during periods of swarms of snowflakes that pile up on roads and highways.
For More Information
Contact Mark Schultz.