In appreciation of those who served our military and their families, this month's Local Look will focus on veterans in the region. According to the American Community Survey, there are 42,099 veterans in the 26-county Northwest Minnesota planning region, which was 13.2 percent of all the veterans in the state. There is a greater concentration of veterans in the region with 9.8 percent of the region's population 18 years and older being a veteran, compared to just 7.6 percent of the state's population. Home to Camp Ripley, a military and civilian training facility operated by the Minnesota Nation Guard, EDR 5-North Central has the greatest concentration of veterans in the Northwest planning region with 11.1 percent of its civilian population being a veteran. 
Veterans with service during the Vietnam era make up about 40 percent of all veterans in Northwest Minnesota, similar to statewide numbers. In addition, there were roughly 9,500 veterans in Northwest Minnesota with service time during the Gulf War eras, a time frame that extends back to 1990 and goes to present day. This cohort exceeds the number of veterans from the Korean War and World War II in the region (Table 1).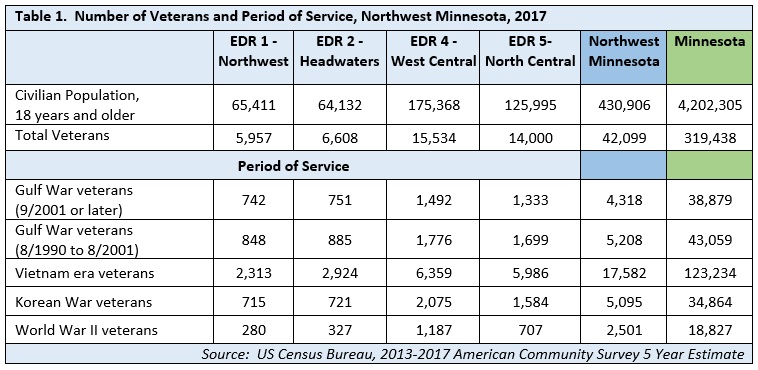 While veterans from the Vietnam era are retiring out of the workforce, younger veterans are now lending their expertise and leadership to the regional economy. Those who choose to serve in the military after high school often find themselves on a different path than their classmates. For example, after serving four years in the Army, Mike Eschenbacher returned to civilian life in Brainerd, his hometown. Zack Winger, a classmate of Mike's at Brainerd High School, chose to stay in Brainerd while serving as a member of the Minnesota National Guard.  Both have become valuable parts of the local workforce and represent others like them who prioritize military service early in their careers.

In 2019, Mike and Zach were both hired by Four Seasons Carwash in Baxter, MN, largely because of the military experience that taught them discipline, teamwork and an array of technical skills.  As Operations Manager Derek Parks puts it, "Zach applied for the assistant manager position, and we were surprised by the amount of experience he had at such a young age. Mike applied for a part-time position at first, but his technical skills stood out early, and we promoted him to full-time in a matter of weeks."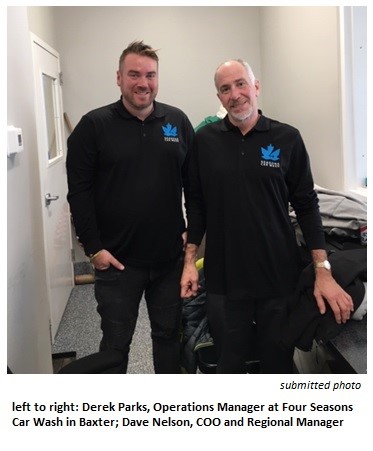 Like most employers struggling to find workers, Four Seasons found that hiring veterans was a smart decision. In addition to helping businesses qualify for the Work Opportunity Tax Credit and other financial incentives, veterans embody the soft skills that are often difficult for employers to find in young employees, and can be even harder to teach. 
With three car washes in Northwest Minnesota, Four Seasons now has veterans working at multiple locations. At the Baxter location in particular, their veteran employees provided much needed stability during the first full summer of operations and are now the bedrock of their workforce. In a business that typically employs young adults and struggles with a high degree of turnover, their presence has had a stabilizing effect.  "You can tell they take a lot of pride in their work, and it rubs off on others," Parks said. "Our young workers pick up on that energy, and it leads to a positive work environment that embraces accountability and keeps our business running smooth."
In addition to employing four veterans in their organization, Four Seasons Carwash is offering a free car wash to all veterans in honor of Veteran's Day on Monday, November 11.
For More Information

Contact Erik White, Northwest labor market analyst, at 218-302-8413 and Chet Bodin, Northwest workforce strategy consultant, at 218-828-2450.