West Central Minnesota boasts a number of quality post-secondary institutions providing students a variety of options, from vocational training to post-graduate work. At the four-year university level, this includes Minnesota State University-Moorhead, Concordia College-Moorhead, and the University of Minnesota-Morris; while at the two-year college level, the region is home to Alexandria Technical and Community College (ATCC) and Minnesota State Community and Technical College (M-State) in Fergus Falls, Detroit Lakes, Moorhead, and Wadena.
In total, more than 4,400 students earned an award of some type from these institutions during the 2013-2014 school year. While all of these institutions play an important role in the educational attainment of the population, this blog post focuses on the two-year colleges, which awarded nearly 1,500 associate degrees and more than 600 one-year certificates/diplomas that year, accounting for about half the college graduates in the region. Awards, certificates, diplomas, and degrees from these institutions are often less costly, take less time to complete than a bachelor's degree, and most importantly, are leading to jobs in the region.
However, employment outcomes vary by institution and degree type. DEED's Graduate Employment Outcomes tool offers insight to which programs are leading to livable wages and/or full-time work. From M-State, over 750 graduates from the 2013-2014 academic year were working in Minnesota within two years, and earning a median hourly wage of $15.66. The largest number of graduates studied in a health care-related field before entering the workforce, and subsequently, health care was the top industry of employment for M-State graduates overall. This aligns well with the regional economy, where health care and social assistance is the leading industry of employment. Health care graduates were earning nearly $20.00 per hour within two years – well above the median wage for all jobs in Northwest Minnesota ($17.38), and close to the statewide median hourly wage ($20.07). All of the largest programs at M-State were placing the largest number of graduates at firms in Northwest Minnesota (Table 1).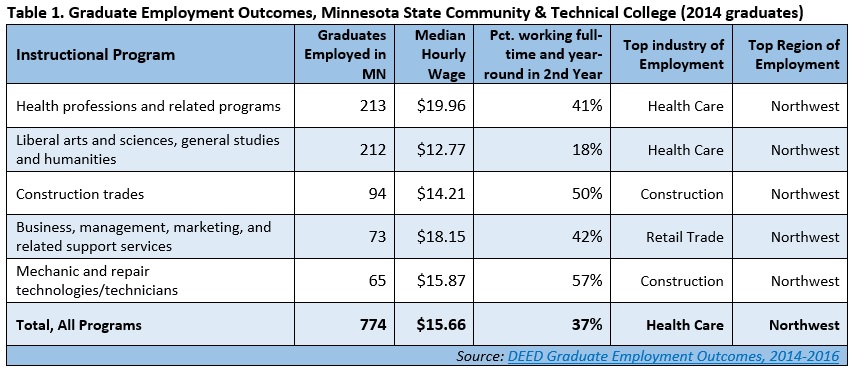 ATCC has a different mix of programs that lead to different employment outcomes. The largest number of graduates came through the law enforcement program, where more graduates found work in the Twin Cities than in the region. Four of the top five programs at ATCC led to jobs with a median wage over $17.00 per hour, and the median wage of all graduates from ATCC was higher than that of M-State grads. Precision production ($18.48), mechanic and repair technologies ($17.55), and law enforcement-related programs ($17.51) are all providing excellent career tracks for their graduates, and often into full-time positions. In fact, over half of working graduates from ATCC were in full-time positions by 2016, compared to 37 percent of M-State grads (Table 2).
Cost of Living
The employment outcomes make it clear that graduates from these institutions enjoy an economic advantage in Northwest Minnesota and EDR 4-West Central. Northwest Minnesota is the top region of employment for graduates of both institutions, and the lower cost of living in the region stretches their earnings even further. According to DEED's Cost of Living Tool, an average family needs to earn $15.21 per hour (working 60 hours/week combined) to afford basic living expenses in Northwest Minnesota (Table 3). That is over $3.00 per hour less than the average needed in Minnesota ($18.47), which makes for a $10,000 difference annually. Single residents without children need to earn $13.33 to meet basic cost of living needs, compared to an average of $15.22 statewide (Table 3).

This means that within a few years, graduates from the largest programs at M-State and ATCC will more than likely find employment with good wages in Northwest Minnesota; enough to start raising a family if they desire. These solid results help convince graduates to plant their roots in our corner of the state, and also help put the 'community' in community college.
For More Information
Contact Chet Bodin at 218-825-2183.