Northeast Minnesota's median household income climbed to $51,626 in 2017, a steady 3.9 percent increase over the previous year. That matched the state's annual income growth rate exactly, though the region's income was still $14,000 below the statewide median household income.
Encouragingly, economic growth in the Arrowhead led to notable declines in the percentage of households that were earning less than $50,000 per year, with the biggest drop occurring for households earning less than $25,000. However, almost 50 percent of households in the region were still in the lowest income categories, compared to only about 38 percent of households statewide (Figure 1).

At a more detailed regional level, median incomes ranged from a low of $45,680 in Aitkin County to more than $56,000 in both Lake and Carlton counties. Likewise, the percentage of households that had incomes below $50,000 ranged from a high of 54.7 percent in Aitkin County to a low of 41.7 percent in Carlton County (Table 1).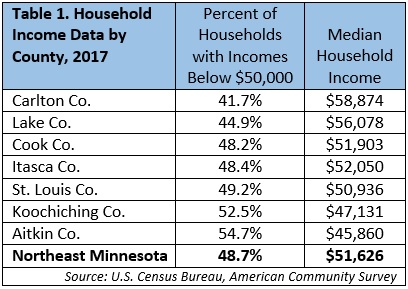 Using data from the Census Bureau's 2013-2017 American Community Survey 5-year estimates, DEED created an interactive visualization that provides details on median incomes at the household, family, married couple family, and non-family household levels. This data shows how the Arrowhead compares to other regions of the state, and also provides estimates on the percentage of households falling into each income category, from less than $15,000 to more than $200,000.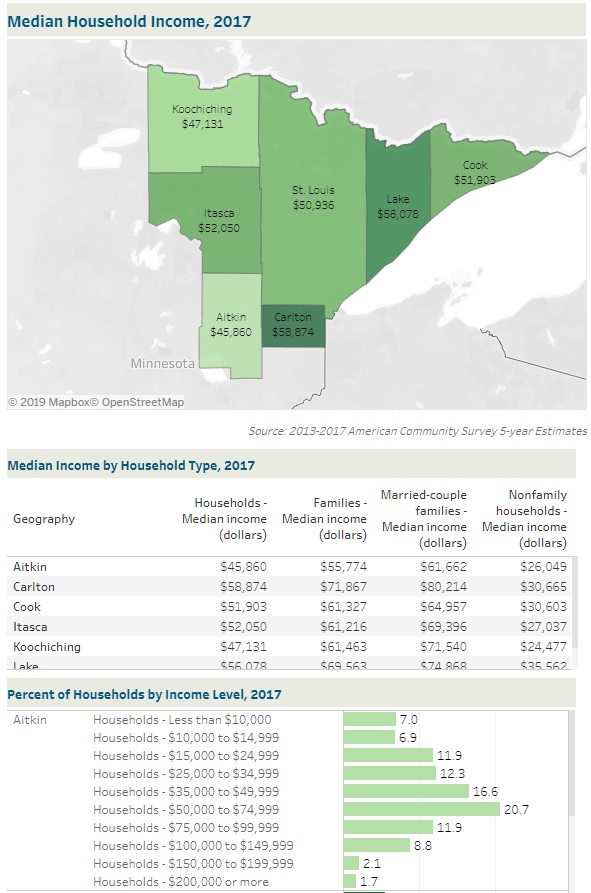 For More Information
Contact Cameron Macht at 320-441-6596.