From Lake Superior to the Iron Range, and the forest and lakes in-between, Northeast Minnesota is renowned for its natural resources and economic and cultural opportunities. However, industries that rely heavily on natural resources – mining, wood product manufacturing, and paper manufacturing – have experienced more than a 15 percent reduction in jobs in the past five years (Table 1).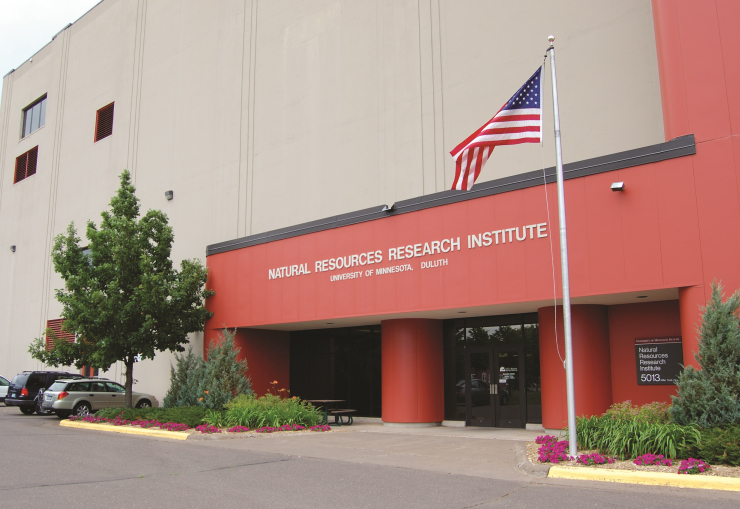 Innovation is needed to help reverse this distressing trend, and one place has set its sights on providing solutions: Natural Resources Research Institute.
The Natural Resources Research Institute (NRRI) is a non-profit applied research organization affiliated with the University of Minnesota-Duluth. Research facilities are located in Duluth and Coleraine.
Established by the Minnesota state legislature in 1983 in response to the difficulties the region's natural resource-based industries (including taconite mining and forestry products) endured at that time, the institution has focused on initiatives that foster the economic development of Minnesota's natural resources in an environmentally sound manner to promote private-sector employment.
The balance of economic reverence in relation to the management of the environment and natural resources in the region and throughout the state is still at the core of its mission. NRRI works to deliver solutions that:
Develop sustainable, natural resource-based industries
Inform environmental management and policy
Support business and entrepreneurial opportunities
Assist industry and communities in defining and maintaining the social license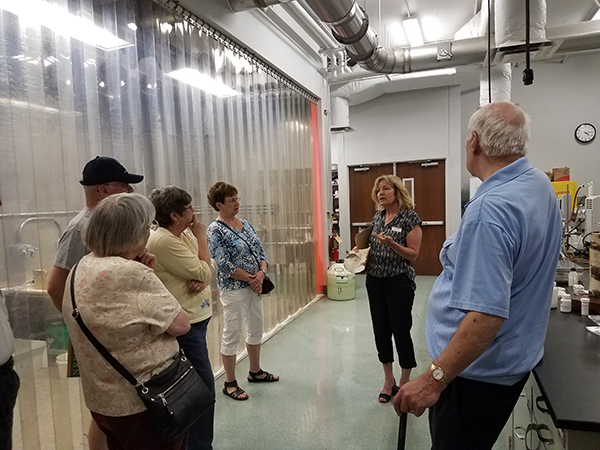 A tour of their Duluth facility – once a Semi-Automatic Ground Environment site during the Cold War housing enormous computers and network systems to support NORAD's air defense system against a Soviet air attack – shows how their integrated approach to applied research of natural resources is utilized to innovate successful economic and environmental solutions.
For example, NRRI recently announced a major breakthrough in processing valuable titanium dioxide from the mineral 'ilmenite' which is found in localized, high concentrations of 1.1 billion-year-old rocks in Northeastern Minnesota. This successful pilot demonstration opens the possibilities to spur jobs related to this undeveloped mineral resource and help diversify mining. Titanium dioxide is used in paints, plastics, paper, rubber and other products and can be used in manufacturing jet engines, aircraft, ships, bicycles, and golf clubs.
NRRI's project results are being marketed to potential mine developers in the pursuit of a processing center in the region one day. This high-value mineral, which sells for about $3,200 per ton, significantly more than $60 per ton that processed taconite iron ore currently sells for, could enhance mining jobs and opportunities. While there haven't been any environmental impact studies related to the mining or processing of titanium dioxide, ilmenite is found inside rock that has low-sulfur content, which reduces the concern that it would lead to acid mine runoff.
Wood is another abundant natural resource, and the NRRI helps the forest products industry develop new high-value products and reshape manufacturing processes to better adapt to changing economic conditions. While paper manufacturing has been hit hard by technological advances that have replaced the need for sheets of paper, there is still potential for products produced from trees and plants. For example, the bark of a birch tree contains antioxidants that can be extracted to make soaps and other medicinal and pharmaceutical products.
The NRRI works with small businesses and entrepreneurs to develop and scale-up chemical processes that utilize this and other natural resources with the aim of commercial development. It also utilizes thermal modification processes of wood to create higher value for the existing wood species in the region which allows the forest industry to be more competitive with new production opportunities and increased demand for exports.
The NRRI also provides business and entrepreneurial support when research and development assistance is needed for continued growth. NRRI has supported the growth of Loll Designs by conducting weathering and accelerated aging tests on the outdoor furniture manufacturer's products. For Epicurean, a culinary supplies manufacturing business, NRRI is developing new products out of wood fiber scraps that come from their signature cutting boards.
Water is another important resource, and there are a number of strategic initiatives taken up by the institute, including the monitoring of wetlands around the Great Lakes. NRRI has a world-class staff of scientists – from water ecologist to forest biologists – to provide insight to the state's environmental challenges. Lastly, as part of University of Minnesota Duluth system, the NRRI employs 40 to 100 students throughout the year as they mentor their professional development and provide opportunities and audiences for an assortment of research projects.
Helping to create higher-value products in environmentally responsible ways helps the vitality of Northeast Minnesota's economy and continues to drive much of the NRRI's applied research. A tour of the facilities just begins to demonstrate the research institute's capabilities. Research in renewable energy storage and transforming low-value biomass to high-value products are other collaborations in driving solutions for the marketplace.
Innovation, collaboration, and enthusiasm in providing market-driven solutions to the challenges that natural resource industries face help to define the Natural Resources Research Institute, and sets it up as significant resource for communities, businesses and entrepreneurs. To discover more of their research and initiatives, visit their website or contact them to schedule a tour.
For More Information
Contact Erik White at erik.white@state.mn.us or 218-302-8413.