Accounting for 15% of all jobs in the region, Manufacturing is the second largest industry in Central Minnesota. Almost 1,200 Manufacturing establishments provide roughly 40,000 jobs, with average annual wages topping $60,585 which is almost $10,000 more than average wages across the total of all industries.
The tight labor market and high demand for goods has pushed Manufacturing wages and openings higher than ever before, with Central Minnesota manufacturers posting a record number of more than 2,300 job vacancies in 2021. The median hourly wage offer in Manufacturing climbed to $19.49 by the end of 2021, and is likely still increasing as demand remains high in 2022.
Production occupations that offered the largest number of openings in Central Minnesota include Welders with a median wage offer of $23.43, Assemblers & Fabricators ($23.64), Engine & Machine Assemblers ($23.73) and CNC operators ($17.74). However, there are many other manufacturing-related occupations in demand in the region.
In fact, Machinists are ranked as the highest rated Manufacturing-related occupation in demand, requiring vocational training and paying a healthy $53,178 median wage. Other high paying, in-demand Manufacturing-related occupations include First-line Supervisors of Production & Operating Workers ($66,400 median wage), Industrial Engineers ($86,523), First Line Supervisors of Mechanics & Installers ($70,217), Mechanical Engineers (76,903), and Industrial Production Managers ($95,192).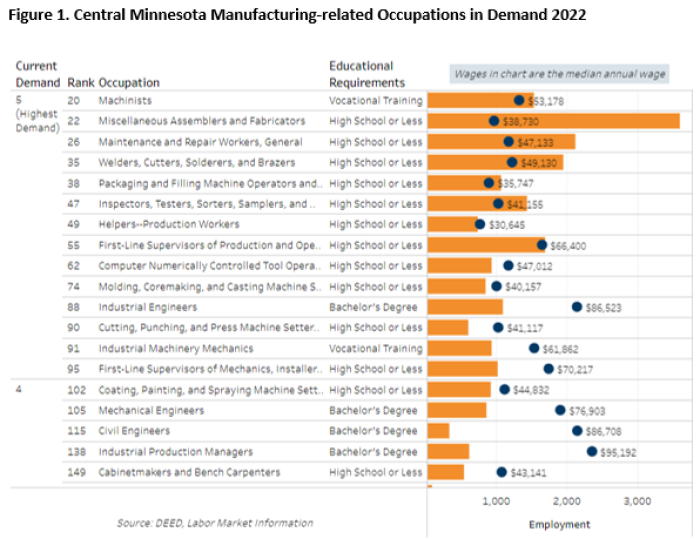 A variety of education levels are needed in Manufacturing, ranging from a high school diploma to a bachelor's degree or higher. Gaining Manufacturing skills and knowledge in high school is a great way for students to bring more value to employers and gain access to higher paying jobs earlier in their careers. With plentiful job openings that pay better than many other industries, Manufacturers provide the region with a resilient economy and excellent careers. Students and jobseekers can find more information about in-demand careers in Manufacturing and STEM by using the Career Pathways tool!
For More Information
Contact Luke Greiner at 320-308-5378.