The size of Central Minnesota's labor force peaked with a little over 400,000 workers in October 2019, just months before the Covid-19 pandemic entered our vocabulary. Since then the labor force in the region and across the country has declined dramatically. By February of 2021, Central Minnesota had lost about 12,500 workers, to just over 388,000 workers, a 3.1% decline from the previous year (see Figure 1).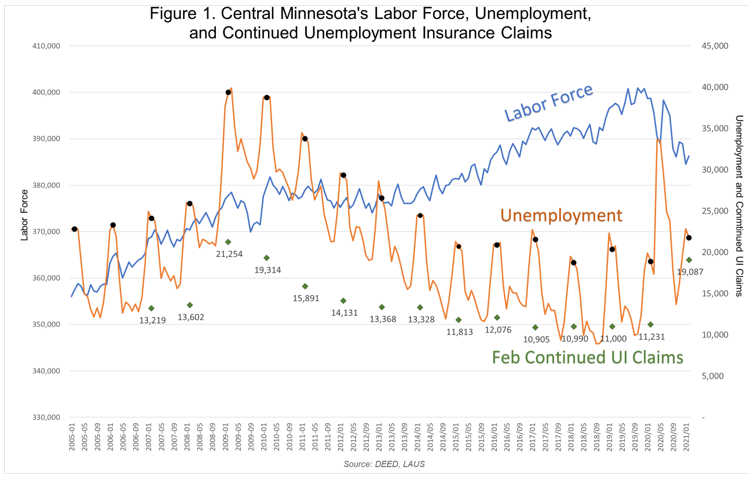 This labor force decline has persisted despite new and continued efforts from employers to recruit and fill job openings, a significant difference from the Great Recession (2007-2009) when employers were shedding jobs and job openings dropped amidst the economic uncertainty. In the last year, workers have left the labor force at much higher rates than normal even though job vacancies remain at levels similar to recent levels seen during the longest economic expansion in history which ended in March 2020.
The reversal of labor force growth in the area is making a difficult situation worse for many employers who want to expand their payroll and it is unclear what changes, if any, will remedy hiring difficulties in the region.
Greg Windfeldt, President/CEO of Preferred Credit Inc. in St. Cloud, shared a story similar to what many employers in the region are experiencing, "Today's recruiting environment is confusing for many employers seeking to hire people from unskilled entry level positions to skilled trades and manufacturing jobs. My company has several openings for unskilled entry level telephone customer service positions, and this is the most challenging recruiting environment we have seen. Yet in the media there continues to be reports of high unemployment and a struggling economy."
These new labor market dynamics have many employers scratching their heads, wondering where the labor went and why it's harder to fill positions despite more workers collecting Unemployment Insurance (UI) benefits. In February of 2021, there were 19,087 continued UI claims paid out to workers in the region, a 70% (+7,856 more continued UI claims) increase from February 2020. It's important to note that because workers can receive UI benefits for a reduction in hours as well as a total job loss, the increase in continued claims is made up of a mix of both underemployed and unemployed workers.
For More Information
Contact Luke Greiner at 320-308-5378.