For more than 715,000 people, the 13 counties of Central Minnesota are a great place to call home. The recipe for success for many families and households is good paying jobs and reasonable living expenses. After all, expenses are just as important as income, right?  As shown on page 8 of the newly published Regional Profile, the median household income in Central Minnesota was $65,949 in 2017, just above the statewide median ($65,699). At the same time, basic living expenses for a typical family were cheaper in Central Minnesota than the rest of the state by roughly $2,500 (page 9).
Higher incomes and lower expenses suggest excellent living opportunities in Central Minnesota for most households. In fact, more than one in 11 households had incomes at or above $150,000 per year. While this is lower than the state, it's still a significant number, and the region also has a smaller share of households in the lowest income category, below $25,000. The region has a larger share of households in the middle income ranges, leading to a comfortable standard of living (Figure 1).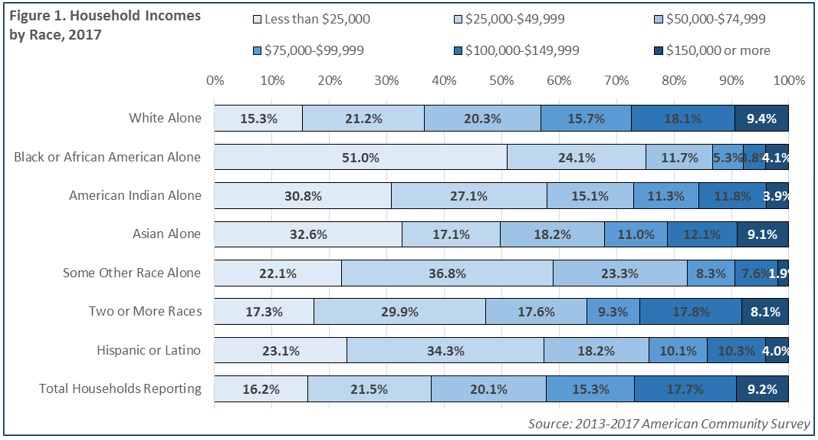 Most households have benefited from rising wages, but there are disparities in incomes by race and origin. According to estimates from the Census Bureau, white households had the highest median income of all races ($67,122), while black households ($32,123) had the lowest, less than half of the amount for white households. American Indians ($40,327) and Hispanic or Latinos ($45,155) also had lower median household incomes in 2017.
While Central Minnesota has a smaller share of foreign-born residents than the state, a much larger share of the region's immigrants has arrived more recently. Thirty percent of immigrants in Central Minnesota arrived after 2010, compared to 21.5 percent statewide. A larger share of black immigrants helps explain some of the reasons behind the very low household income for blacks in the region.
The number of foreign-born residents in the region increased almost twice as fast in Central Minnesota compared to the state overall, jumping 43.4 percent from 2010 to 2017. The largest immigrant increase was from Africa, which more than tripled since 2010, followed by Latin America and Asia; while the number of immigrants from Europe declined from 2010 to 2017.
For More Information
Contact Luke Greiner at 320-308-5378.