Health science, one of the six career fields defined by the Minnesota Department of Education and the Minnesota State College and University system, is a broad field that includes five distinct career pathways. Each of the five career pathways are made up of numerous individual occupations that workers do for a living: 
Although there are excellent careers in each pathway, about 85 percent of jobs are found in therapeutic services. The three largest occupations include registered nurses, home health aides, and certified nursing assistants. With 6,160 jobs in the region, RNs account for almost a quarter of all employment in the health science career field. In addition, HHAs and CNAs amount to 8,310 jobs, or 31 percent of jobs in the health science career field. Combined, these three occupations make up 54 percent of all jobs in health science (Figure 1).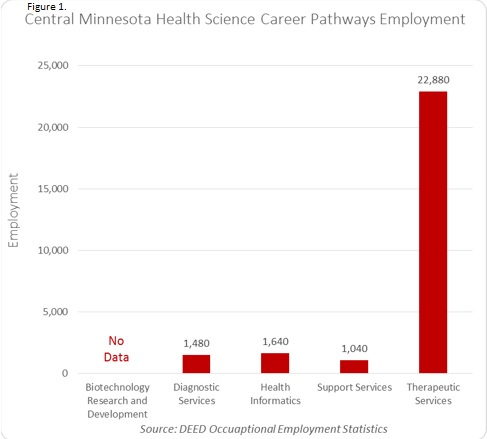 This is helpful for students eyeing a health science pathway in high school or college and wanting to size up their options. While many occupations offer excellent opportunities in health science, it's important to consider how much employment exists within a given occupation. Larger numbers of employment typically lead to more frequent opportunities, including job openings due to retirements and job changes. This could translate into multiple job openings in different locations at the same time. RNs, HHAs, and CNAs are in high demand in the region and provide lots of job opportunities.
On the other hand, nuclear medicine technologists in the diagnostic services pathway has only 20 jobs in Central Minnesota, and there were currently just 40 phlebotomists in the support services pathway. While they are great careers, they might provide less frequent job openings, and the openings might be offered in fewer locations.
For More Information
Contact Luke Greiner at 320-308-5378.