The seemingly overnight change from winter to summer – and skipping spring – might have you scrambling to adjust your home or workplace from heat to air conditioning. Thank your local HVAC companies and their employees for making the transition a little easier, especially if a repair is needed.
According to DEED's Occupational Employment Statistics, the largest number of plumbing, heating, and air conditioning jobs outside of the Twin Cities is found in Central Minnesota, totaling 2,605 jobs in 2017. While the number of jobs was drastically cut during the recession, by 2016 the plumbing, heating, and air-conditioning contractors industry recovered all the jobs lost, and reached a new record employment high.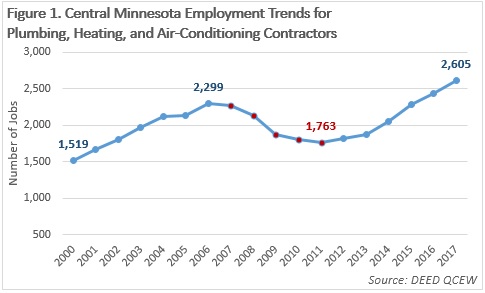 If you find yourself trying to sleep without A/C on a hot, muggy night, you'll want to call a heating and air conditioning mechanic/installer, better known as an HVAC technician. Central Minnesota has roughly 400 of these jobs, filled by workers who service and install heaters and air conditioning units to meet the needs of Central Minnesota's residents and companies.
This occupation is in high demand by DEED's Occupations In Demand tool, meaning employers have a current need and desire to fill open positions. The occupation also has solid opportunity for entrepreneurs, as slightly more than 9 percent of all HVAC technician jobs are held by self-employed workers.
To get a job as an HVAC technician, some additional schooling is typically required, most likely vocational education or on-the-job training. About 52 percent of HVAC technicians in Minnesota have some college but less than a bachelor's degree; another 30 percent of workers have a high school diploma.
Wages for workers are healthy, with a median hourly rate of $27.07 per hour and the top 10 percent earning over $37.05 per hour, though those wages are usually reserved for the most experienced and skilled workers. The most recent data Job Vacancy Survey data from the 4th quarter of 2017 show there were 97 job openings for HVAC technicians in Central Minnesota with starting wages just a little over $16 per hour.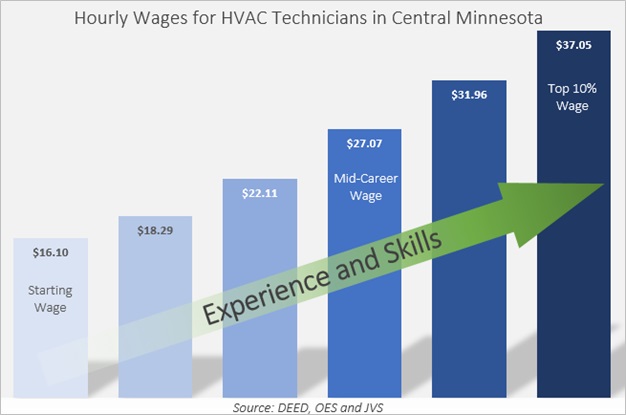 The region's projected employment growth rate of +9.3 percent is higher than typical, and job openings are abundant. Unless the convenience of climate controlled environments is a fad, count on HVAC technicians to keep you comfortable for years to come.
For More Information
Contact Luke Greiner at 320-308-5378.