It only takes a short drive south of Saint Cloud on Highway 23 to notice the abundance of stone manufacturers. Not unlike giant headstones, hundreds of slabs of stone sit upright outside these companies; however many of the meticulously sliced stones that are arranged in and around these establishments will find new life as kitchen counters, wet bars, and table tops.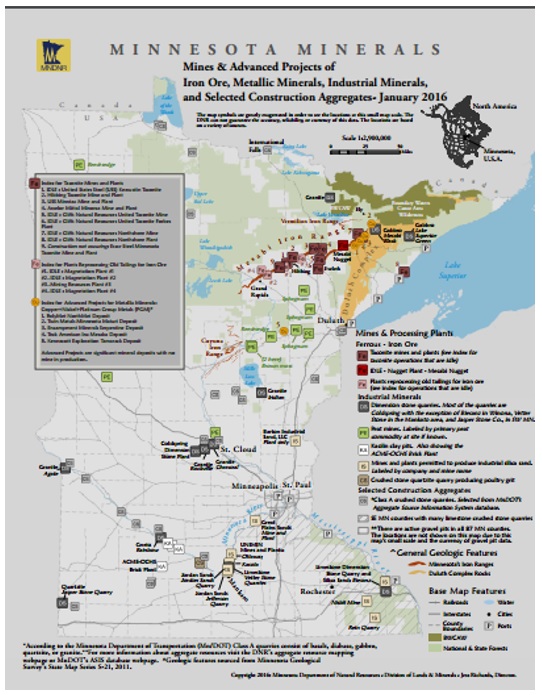 The highly visible stone manufacturers located along Highway 23 are the result of large granite deposits in the area. The short distance from the mines to the manufacturing facilities has given the area a large concentration of related businesses to support the nonmetallic mining.
It is also the reason Saint Cloud has been dubbed "Granite City", and why most of the dimensional stone quarries in Minnesota are owned by Coldspring (formerly Cold Spring Granite), located in the heart of Central Minnesota. In addition to three granite quarries south of Saint Cloud, a fourth granite quarry in Mille Lacs County is also located in Central Minnesota (Map 1).
These rock formations provide lots of jobs in mining, manufacturing, and transportation. Through the first two quarters of 2016, Central Minnesota was home to an average of 1,148 nonmetallic mineral product manufacturing jobs, which is roughly 39 percent of Minnesota's total employment in that subsector. It stands out because Central Minnesota has only about 10 percent of statewide jobs across all industries.
Because of its link to the housing industry, nonmetallic mineral product manufacturing is sensitive to changing economic cycles. The subsector lost jobs during the 2001 recession, then built them back up until the housing bubble burst in 2007, which led to a huge 19 percent decline through 2010. Since 2013, the subsector has started steadily adding jobs.
The most common job opportunities in this subsector range from cutting and slicing machine operators to production supervisors and sales representatives, though most of the jobs focus on production. These jobs require very different skill sets, and pay different wages. Median wages for the five largest occupations fall between $15 and $30 per hour. Low-end and entry-level wages are all less than $20 per hour for these occupations, but wages for workers at the top end of the pay scale are often 1.5 to 3-times higher, usually from increased experience and credentials (Figure 1).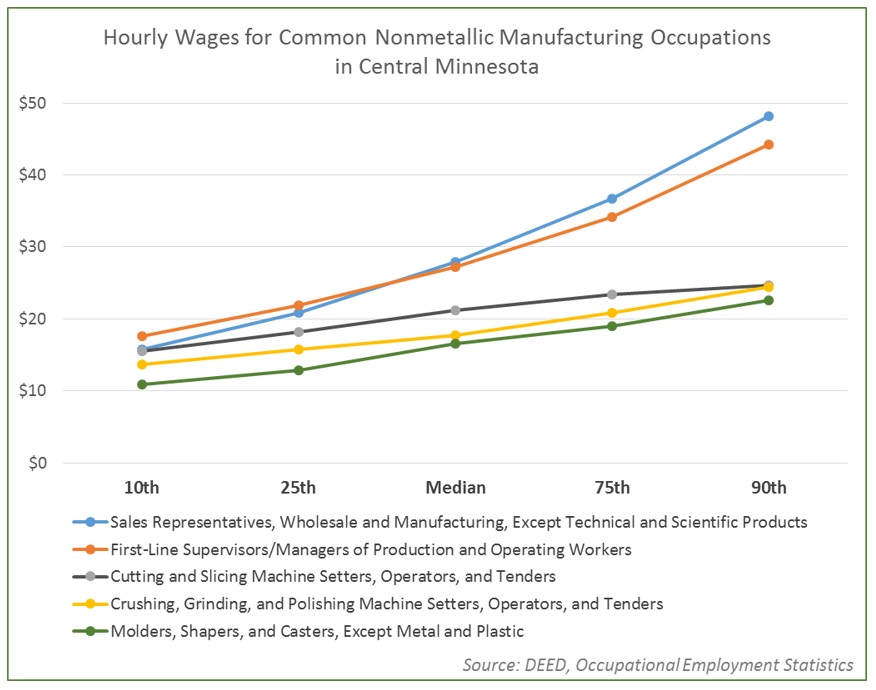 For more information on nonmetallic mineral product manufacturing, contact Luke Greiner at 320-308-5378 or email Luke.Greiner@state.mn.us.