Day care providers offer safe, active environments for the children of thousands of working parents in Central Minnesota every day. Their work also has a broader economic impact: The availability of child care can affect labor force participation among new parents.
Roughly one-third of households in Central Minnesota have children under 18 years old, and nearly 36,000 households have at least one child under 6 years of age. That translates into over 174,000 children under the age of 18 – including about 55,000 under age 6, according to Census data.
In addition to stay-at-home parents, grandparents and other guardians, these children are cared for by a network of over 1,425 workers at 126 child day care establishments and 2,519 self-employed day care providers (also known as nonemployers) in the 13-county region. Classified as child day care services, these establishments help care for and educate children – the future labor force – while their parents are working.
While the number of children under 18 has increased in Central Minnesota by less than 1 percent, the number of children under the age of 6 declined by 4.6 percent from 2009 to 2014. Similarly, statewide, Minnesota saw a 1.4 percent increase in children under 18 years, but a decline of 0.5 percent in children under 6 during the same time. Meanwhile, the number of day care workers has declined during the past decade – at an even faster rate.
After peaking at 3,212 in the year 2000, the number of self-employed day care providers over the last decade has declined. From 2005 to 2014, nonemployer child day care establishments dropped 21.3 percent, with 680 fewer options for families. During the same period, child day care services with paid employees saw a modest increase of 6.7 percent, based on 90 additional jobs (see Figure 1).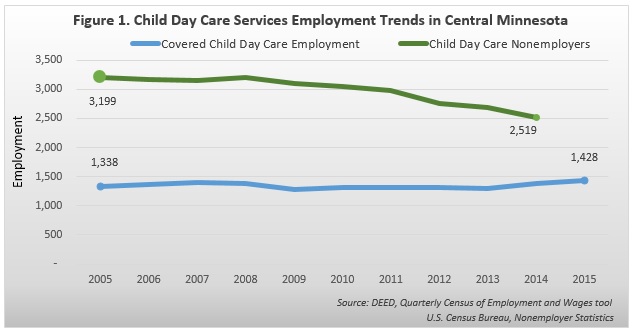 Although the employment trend has been declining among child day care businesses without paid employees and only increasing slowly for establishments with paid employees, the industry still presents opportunities for job seekers and entrepreneurs in Central Minnesota.
Child care workers are the most common occupation in child day care services, representing 35.8 percent of all jobs in the industry. At just $20,644 in 2016, the annual median wage is well below the cost of living for a single worker with no children in Central Minnesota, according to DEED's Cost of Living tool. However, the occupation provides opportunities for people who are new to the labor force and who might need experience more than a living wage.
Other occupations such as teacher assistants and child care center administrators have much higher wages. But those positions require more training and are less numerous, accounting for only 13.3 percent and 3.8 percent of jobs in the industry, respectively. Likewise, preschool teachers earn higher wages, but also typically require a college degree (see Figure 2).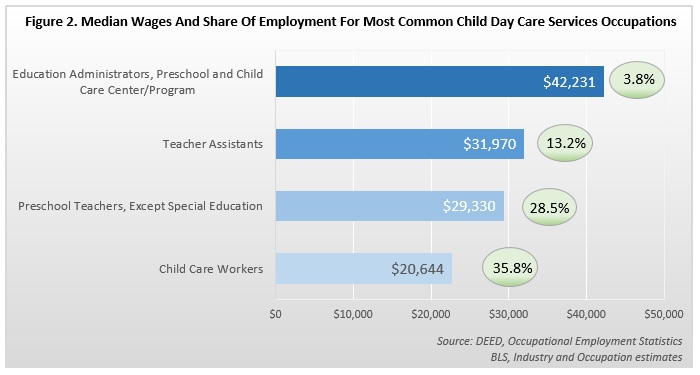 While entry-level jobs in the child day care services industry pay relatively low wages, nevertheless, the impact these workers have on Central Minnesota's economy is high. Each child day care establishment – whether in a home or at a facility – provides the opportunity for others to work.
For More Information
Contact Luke Greiner at 320-308-5378.