In Minnesota, we have so much to be optimistic about – our diverse economy, a strong business climate, and an extraordinary workforce founded on values of hard work and integrity.  

However, no one would say that the growth of Minnesota's economy is inevitable. We have a severe workforce shortage. Our most recent Job Vacancy Survey shows there are nearly two job openings for every Minnesotan looking for work. 

That's why, at DEED, we are working to empower the growth of the Minnesota economy, for everyone. Many communities face barriers to employment, and even during this tight labor market, Minnesotans experience high unemployment rates.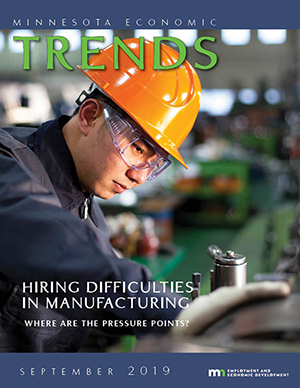 In the September 2019 issue of Minnesota Economic Trends, we take a deeper look at the state's labor market and explore current workforce hot topics. This edition includes: 
The results of our

Hiring Difficulties survey

, which summarizes

recent employer interviews on hiring skilled production, repair and engineering technician occupations in manufacturing across Minnesota.

 

 

A new Career Pathways Tool to help connect local labor market information to the Career Wheel that high schools and colleges use across the state. 

An examination of how 

diffusion indexes, a month

ly labor market

 data set released by the Bureau of Labor and Statistics (BLS), measures the dispersion of employment change across industries, and what it means for the economy. We also provide

 an analysis of the similarities and differences between the current economic expansion and previous expansions. 

 

 

A b

rief overview of the state's construction industry in 2019.

 

 



Minnesota Economic Trends is DEED's quarterly magazine that provides expert analysis of the state's labor market, industries and economy. Produced by our Labor Market Information Office, the magazine features articles on workforce, demographic, and economic trends written by our labor market analysts and guest columnists. You're invited to peruse our library of Minnesota Economic Trends. 

– Commissioner Steve Grove