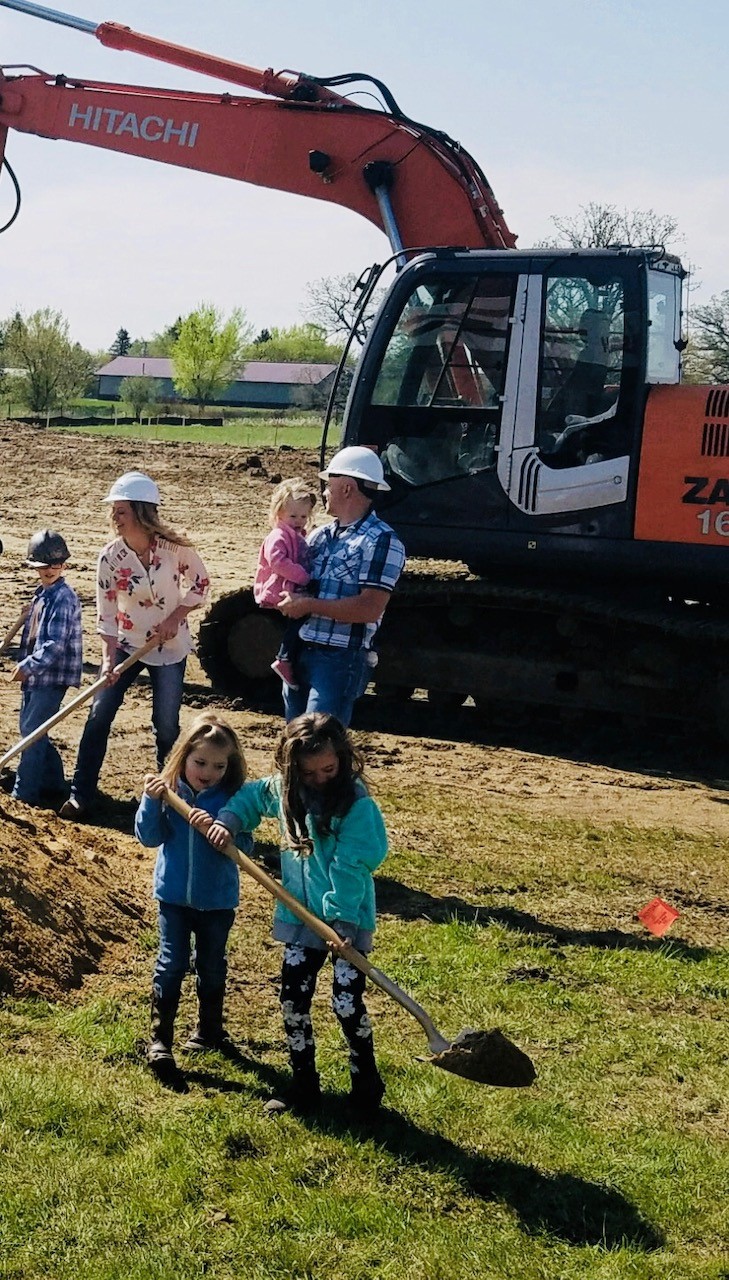 A groundbreaking ceremony was held May 10 for a new day care center in the Schumann Business Park in Stewartville, Minn., one of more than 30 DEED-certified shovel-ready sites across the state.
The 7,800-square-foot facility – Sprouts Childcare & Early Education Center, LLC – is expected to open this fall. It will create 15 new jobs and will have capacity to serve up to 99 children, with 16 spots for infants.
"This has been a dream of mine for quite a few years," said Krystal Campbell, who co-owns the center with her husband Patrick. Krystal has been providing licensed in-home day care in Stewartville for the past six years.
"Having a shovel-ready site has been very helpful," she added. "The soil has been tested and other things already done. It has saved us money and a lot of time."
A Growing Need
Stewartville has a population of over 6,000 people and is located a few miles south of Rochester, Minn. City officials held a community meeting over a year ago to talk about the growing need for additional child care options.
"Research from last year has indicated a child care capacity deficit of at least 111 children," said Stewartville Mayor Jimmie-John King. "This new business will help augment the existing, quality child care being offered in our community to support our residents and employers.
"We're happy to have this young couple making such a wonderful investment in our community."
The new center – at 200 Schumann Drive N.W., adjacent to Schwickert's Tecta America – will be one of eight businesses in the business park.
It is being constructed with assistance from a $50,000 loan provided by the Stewartville Economic Development Authority (EDA) as well as other financing from the Minnesota Business Finance Corporation, People's Energy Cooperative and Home Federal Savings Bank. The city also approved a city tax abatement.
Community Support
"If people can't access child care, it's difficult for employers to find a workforce. Having employers be supportive of this project was key," said Joya Stetson, director of marketing for Community and Economic Development Associates (CEDA), a non-profit that provides economic development staffing to communities in Minnesota, including Stewartville.
Krystal Campbell said having Stetson to answer questions and connect her with resources has been invaluable. "I don't know what I would have done without her assistance."
Photo: Krystal and Patrick Campbell, owners of the new childcare center, with their children, shovel dirt at the groundbreaking ceremony in Stewartville.