State Archaeology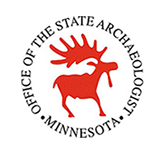 Minnesota's State Archaeologist is an employee of the Minnesota Department of Administration and is responsible for leading the Office of the State Archaeologist (OSA). OSA assists state agencies and other government entities, archaeological professionals, students, and the general public with archaeological site protection, archaeological education, and archaeological research. In doing so, OSA promotes efficient management of archaeological resources in Minnesota and a better understanding of the state's past. OSA also acts as the chief public contact for archaeology in Minnesota and sponsors public events, produces educational materials, and makes presentations to various organizations, school groups and the public at large.
The position of State Archaeologist was first officially established in 1963 and the office's principal duties are assigned by two state laws, the Field Archaeology Act (Minnesota Statutes 138.31 - 138.42) and the Private Cemeteries Act (MS 307.08). The office also has many secondary duties and responsibilities, assigned through a number of other state laws and rules. Amanda Gronhovd is the current State Archaeologist. She was appointed to the position in 2016 and was preceded by Scott Anfinson, who held the position from 2006 to 2016.
Learn more about Minnesota Archaeology, including rock art and artifacts, burial grounds, archaeological sites to visit, and more.
Learn more about the work of OSA. Here you'll find duties of the office, a listing of services provided, past annual reports and more.
Contact information for the State Archaeologist and OSA are listed on the Contact Us page.