PreserveMN and State Review Board Pivot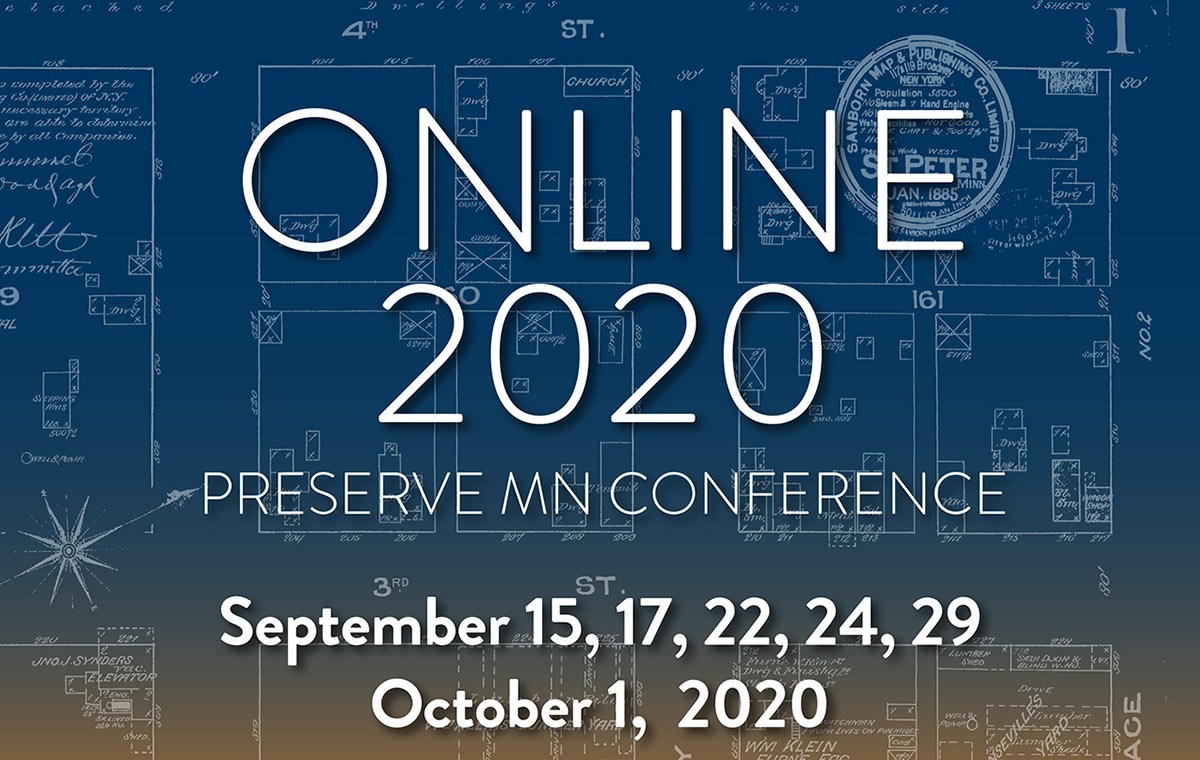 Due to COVID-19, the State Historic Preservation Office and the Stillwater Heritage Preservation Commission made the difficult decision in early June to postpone the 2020 PreserveMN Conference that was scheduled for September 16-18 in Stillwater. Despite being unable to host an in-person event, the office was determined to provide a learning opportunity for stakeholders, so staff shifted gears to organize a scaled-down version of the conference in a virtual format. A series of six educational sessions were offered over the span of three weeks using the Webex platform.
Registration was free and over 300 people signed up, including people from California, New York, Pennsylvania and Texas. Sessions were recorded and are available on our website for future viewing, and to date the recordings have 267 total views. Although not everyone attended every session they signed up for, it was great to see participation from colleagues across the country. Here are the session breakdowns: "Protecting Historic Places in Perpetuity: An Overview of Preservation Easements," 93 attendees; "Collaborative Planning for Indian Mounds: An Indigenous Burial Ground," 113 attendees; "Engaging in Place: Working with Community to Define and Map its Cultural Assets," 111 attendees; "Untangling Preservation Planning: From Context Statements to Conditions Assessments," 92 attendees; "Unseen Significance: Archaeology, Parks and the National Register of Historic Places," 114 attendees; "Equity in Preservation Planning: Saint Paul African American Historic and Cultural Context," 84 attendees.
Also due to the COVID-19 pandemic, the Minnesota State Historic Preservation Review Board was required to conduct meetings in an online format while following Minnesota's Open Meeting Laws and ensuring public participation. With no previous experience hosting online meetings of this size, the Minnesota SHPO started from scratch to quickly find an appropriate platform, educate Board members on its use, and ensure the meeting was accessible for public attendance. The first three meetings of the year were hosted using Skype, with meeting links and attendance instructions shared with Board members, consultants, and property owners, and shared on the SHPO website. Meetings were advertised using GovDelivery bulletins and on social media platforms.
The virtual meetings were successful, with few technical difficulties. The State of Minnesota announced it was discontinuing the Skype meeting platform in 2021 and with the success of the PreserveMN webinars, SHPO transitioned to the Webex meeting platform for the final meeting of 2020. Faced with a new virtual meeting learning curve, the meeting was held and well attended. The Minnesota SHPO looks to continue using Webex in 2021, using lessons learned from previous meetings to conduct effective meetings.