The Golden GOVIT Awards, part of the Government IT Symposium, recognizes government agencies and individuals that advanced government technology through collaboration, innovation, service, and individual leadership. Announced on December 10, 2020, the Golden GOVIT awards recognized two awards tied to the state of Minnesota and Minnesota IT Services (MNIT). Chris Luhman from Minnesota IT Services received the Individual Leader Award. The Pandemic Electron Benefit Transfer (Pandemic-EBT) project, a collaborative response from the MNIT, the Minnesota Department of Human Services (DHS), and Code for America won the Rapid Response Award.
Individual Leader Award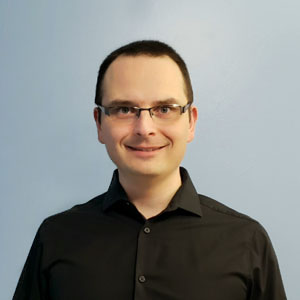 Chris Luhman, the Chief Information Security Officer for MNIT partnering with DHS and MNsure, won the 2020 Golden GOVIT Award in the Individual Leader Award category. The award recognizes individuals who champion and implement innovation, inspire collaboration, are focused on improving service, and demonstrate a personal commitment to advancing the professional and career development of themselves as well as others in their agency.
Over the last five years in his role, Luhman has been a strong leader who often thinks outside the box when solving issues, and challenges his teams to do the same. He values sustainable innovation over implementing new technology, and provides strategic guidance to management and staff. Luhman's insight and expertise are evident in his work to automate and standardize application security processes. He understands the interactions between people, processes, and technology, and leverages each focus area to deliver more effective solutions to serve the state of Minnesota.
Rapid Response Award 
MNIT, DHS, and Code for America won a Golden GOVIT Award in the Rapid Response category for their work on the P-EBT program. The Rapid Response category was added this year to recognize government bodies that rapidly and effectively responded to the COVID-19 pandemic through collaboration, innovation, and service. 
In March, the federal Coronavirus Aid, Relief and Economic Security (CARES) Act created the Pandemic Electronic Benefit Transfer program to provide food benefits to families with children who qualified for free and reduced meals at school, but were not receiving those meals because school buildings had closed. The P-EBT project required extensive data matching with the Minnesota Department of Education to verify families' free and reduced-price meal eligibility, and required DHS economic assistance staff to work quickly with MNIT and Code for America to create a web-based application for families. The P-EBT program launched on May 29, helping 267,000 children in Minnesota receive food benefits. 
To help Minnesotans receive their benefits as quickly as possible, and to ensure an efficient process, DHS, MNIT, and Amazon Web Services also created a pilot program to text P-EBT eligible clients. The text message alerted Minnesotans that applied for P-EBT that their benefits had been issued.
To learn more about P-EBT, visit the department's P-EBT webpage.
To learn more about the awards, visit the GTS Educational Events website.