MNIT Appoints Assistant Commissioners for Project Portfolio Management and Cybersecurity
St. Paul, MN: Minnesota IT Services (MNIT) is proud to announce the appointment of two Assistant Commissioner positions. Zarina Baber is appointed as an Assistant Commissioner for Project Portfolio Management, and Rohit Tandon is appointed as Assistant Commissioner and the State's Chief Information Security Officer (CISO).
MNIT has worked collaboratively with state agency leaders and members of the Governor's Blue Ribbon Council on Information Technology to develop strategies to modernize state technology and associated business processes, strengthen the State's cybersecurity defenses, and leverage the power of technology to transform government service delivery. These leadership changes are the next step in that process, as these strategies shift from development to implementation phases.
"Zarina and Rohit's appointments demonstrate MNIT's commitment to secure, innovative, and reliable technology that equitably serves all Minnesotans. With both Zarina and Rohit on board, we have an opportunity to share in their skills to transform the way we deliver services to our agency partners. We are ensuring a security-focused mindset from inception to rollout, and designing solutions hand in hand with our partners while keeping users – the people of Minnesota – at the center of our work."

Minnesota IT Services Commissioner Tarek Tomes
Zarina Baber
Zarina Baber joins the MNIT leadership team as Assistant Commissioner for Project Portfolio Management. Baber previously served a dual role as the Deputy Chief Business Technology Officer (CBTO) for Minnesota Management and Budget and CBTO for the Governor's Office.
Baber has 25 years of IT leadership experience that spans across both private and public sectors. Prior to MNIT, her experience included major program execution, establishing and leading Project Management Offices (PMO), and implementing portfolio management practices. As the Director of the Enterprise PMO at Ameriprise Financial Services, Zarina led the transformation of technology's annual planning process to a rolling monthly portfolio management process. She implemented a $175 million electronic health record initiative at Fairview Health Services, and stood up the PMO at Target Corporation. Zarina's public sector experience includes several years at Hennepin County Medical Center, where among other things, she developed and introduced the Information Management Life Cycle. She also led the implementation of a service integration initiative across nine divisions—the data sharing project included business process redesign and cross-divisional systems integration.
Her new leadership role will focus on ensuring strategic alignment between business objectives and investment in technology projects. She will use her position to build the partnerships and relationships necessary to move forward the combined vision of the Blue Ribbon Council on Information Technology, Governor Walz's One Minnesota, and MNIT's strategic and tactical planning. Her appointment will allow MNIT to build a roadmap for change to create better technology solutions for the state.
Baber holds a BS in MIS from Carlson School of Management, U of M; MS in Technology Management from the School of Engineering, University of St. Thomas and a Master Certificate in Healthcare Leadership with Focus on Organizational Change Management from Cornell University. In addition, she is a certified Project Management Professional and a Certified Scrum Master.
Rohit Tandon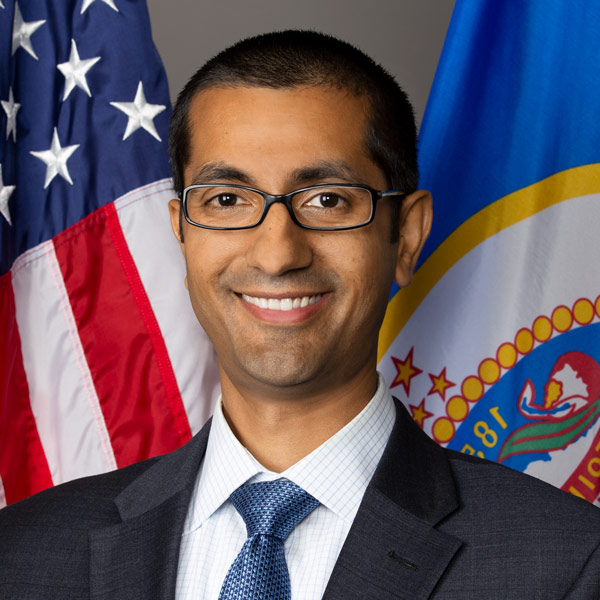 Rohit Tandon is appointed to the role of Assistant Commissioner and Chief Information Security Officer (CISO) following a previous role at MNIT of Deputy CISO. He has also been serving as acting CISO since December 2019. Rohit's vision as Chief Information Security Officer is that Information Security must guide risk decisions in a faster and less burdensome manner.
Before Rohit joined MNIT's efforts to protect fellow Minnesotans' data, he served as the Information Security Leader at Strategic Education, Inc. where he assisted in the merger of Capella Education Company and Strayer Education, Inc. His work for the combined post-merger organization included forming the central Information Security department.
Rohit received a Bachelor of Arts degree from Winona State University and an MBA from University of Minnesota.
The appointments are effective July 1, 2020. You can find photos and official bios for Rohit Tandon and Zarina Baber on /mnit/media/leadership/index.jspMNIT's leadership page.
###
About Minnesota IT Services
Minnesota IT Services, led by the state's Chief Information Officer, is the Information Technology agency for Minnesota's executive branch, providing enterprise and local IT services to over 70 agencies, boards and commissions. MNIT employs more than 2,000 people across 90 physical locations. Together, we build, maintain, and secure the State's IT infrastructure, applications, projects and services. MNIT sets IT strategy, direction, policies and standards for enterprise IT leadership and planning. We also serve Minnesotans by connecting all 87 counties, 300 cities, and 200 public higher education campuses across the state on the MNET network. Through public-private partnerships, our team proactively protects the state's information systems and the private data of 5.5 million Minnesotans.