Maybe you already know, but I suspect it may come as a surprise to many of you to learn that slip, trip, fall injuries are reported as the most frequent cause of injury in the recently published FY2015 Workers' Compensation Annual Report. Nearly 20 percent of all workers' compensation claims in FY2015 were slip, trip, falls, with a projected cost of $2.9 million in benefit payments. That's one year alone. As a matter of fact, slip, trip, falls have been the top cause of injuries identified in the past three annual reports and data suggests the same for FY2016.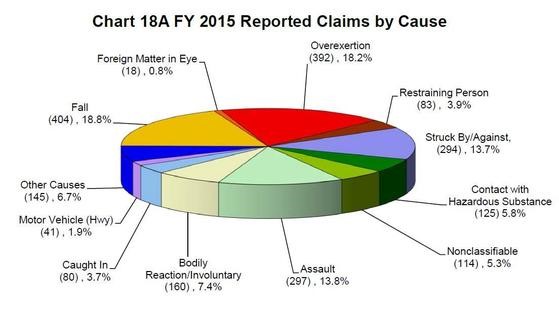 Yes it is true that slip, trip, falls is a broad category and includes such injuries as falls from heights, vehicles, and materials, but it also may surprise you to learn that more than 50 percent of slip, trip, falls involves the walking surface or stairs. And being in Minnesota, it is easy to assume that these falls are all occurring in the winter. Actually, the data suggests otherwise, with only 50 percent occurring December through March.
It's for these reasons that the Risk Management Division has been working on several fronts to attack slip, trip, falls.
Our efforts began a few years back when we developed a . You remember, the "walk like a penguin" poster. Since then, we have added more slip, trip, fall posters and general safety-themed posters. We encourage you to continue to use the posters and to cycle through the various themes. Please also share your poster ideas with us and we may just post them for all to use.
Slip, trip, fall topics have also been a standard agenda item at our annual State Safety & Loss Control Conference. The latest sessions occurred in 2014 and again this past September at our 10th annual conference, with a session titled "Tips to Manage the Environmental and Behavioral Factors that Cause Slip, Trips, and Falls." 
In addition to some snow and ice management best practices, materials were provided at the session geared towards human factors that contribute to falls. Check out the behavioral one-pagers, the slip, trip, fall interview tool, and the MPCA guidelines for using salt on the /admin/mnsafe/the-mnsafe-way/resources/slip-trip-fall-resources/index.jspMnSAFE slip, trip, fall resources web page.
We also introduced the "Wear a Pair, Bring a Spare" campaign at this year's conference. Conference attendees were provided a drawstring bag to carry a pair of dress shoes (Bring a Spare) to work with the idea that they wear appropriate winter footwear outdoors (Wear a Pair).  
Finally, all cabinet agencies were asked to include a slip, trip, fall reduction plan as part of their annual MnSAFE injury reduction plan. Statewide we are targeting a 10 percent reduction in slip, trip, falls by the end of FY2018. 
With winter rapidly approaching, now is a good time to:
Review your building and grounds plans to combat the environmental factors that lead to slip, trip, falls.
Discuss the behavioral aspects of slip, trip, falls with employees and ask for their participation and commitment to reducing slip, trip, falls.
Encourage "Wear a Pair, Bring a Spare."
Enhance your slip, trip, fall incident investigation to better understand the factors that are contributing to falls.