Fleet Sustainability
Admin is committed to supporting a sustainable fleet, through alternative fuels, hybrid technology, and electric vehicles. Since 2013, we've reduced fleet fuel consumption by more than 16 percent. As of 2015, 94 percent of the state fleet is capable of operating with cleaner fuels. We encourage our agency partners to work with us to maximize the sustainability of their agency fleets.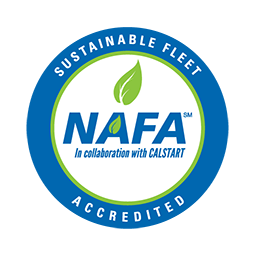 We're Accredited!
Admin's fleet is now officially recognized as a Sustainable Fleet by the National Association of Fleet Administrators (NAFA). The NAFA Fleet Accreditation Program recognizes fleets for having a credible sustainability plan and for making meaningful progress toward reducing total emissions and negative environmental impacts of extraneous carbon fuel usage.
Hybrid and Electric Vehicles
Admin has increased the overall fuel efficiency of the state fleet by adding 78 hybrid and six electric vehicles. 
Most recently, we purchased five Nissan Leaf Electric vehicles in partnership with the Department of Natural Resources (DNR) and the Minnesota Pollution Control Agency (MPCA). These vehicles produce zero emissions and require no gasoline or fuel. The miles-per-gallon equivalent (MPGe) is 114 miles, according to the Environmental Protection Agency (EPA). 
Available for Rentals: Test Drive an Electric Vehicle! 
Admin is using one of the Nissan Leaf vehicles as a rental, giving agencies the opportunity to test the vehicle. We hope this rental option will eliminate concerns agencies might have about choosing an electric vehicle to replace older vehicles at the end of their life cycles.
If you want to rent the vehicle or explore purchasing electric vehicles for your agency, contact our fleet director, Holly Gustner, at 651-201-2514 or holly.gustner@state.mn.us. 
Alternative Fuels
In addition to supporting state agencies' vehicle leasing needs, Admin also assists state agencies in meeting the federal Energy Policy Act (EPAct) requirement for alternative fuel vehicle purchasing. 
If you live in Minnesota, you're fortunate to be part of one of the most progressive clean air fuel programs in the country. The program began in 1992 in the Twin Cities metro area, and eventually expanded into a statewide policy. Minnesota legislation now ensures that the vast majority of gasoline sold in the state contains an oxygenate, to provide for cleaner air. In Minnesota, the oxygenate most often used is ethanol.
In Minnesota, ethanol is the primary alternative vehicle fuel for properly equipped cars and trucks. Admin currently provides state agencies with more than 1,200 flexible fuel vehicles that are capable of using E85, a blend of about 85 percent ethanol and 15 percent unleaded gasoline. The fuel is available at more than 350 retail locations across Minnesota. Additional information about alternative fuels is available below.