There are many ways and spaces where women are leading IT in government. They contribute to innovation, resiliency, and inspire those around them to create a better government that works for everyone. Earlier this month, we profiled seven women throughout history, and now we highlight women at Minnesota IT Services (MNIT) in celebration of Women's History Month. 
Q&A with MNIT leaders
We spoke with incredible women about their work and experiences, and the many ways that women displayed leadership throughout the pandemic:
Ali Wieckowicz: Enterprise Systems Architect, MNIT MnDOT
Kim Wee: Webmaster and Digital Accessibility Coordinator, MNIT MDE
Jane Davison: System Analyst Unit Supervisor, MNIT DHS/MNsure
Joan Redwing: Chief of Application Development
Each of these women, alongside others who were not able to participate, were nominated by a member of Women IT ChangeMakers for inspiring others. Women IT ChangeMakers is a statewide Employee Resource Group for women in technology, founded by Ellena Schoop, an Enterprise Date Architect at MNIT and Dr. Annie Porbeni, MNIT's former Assistant HR Director (now HR Director for Department of Public Safety).
What was a rewarding project or initiative that you've worked on in the past year?
Davison: I'm at MNIT with the Department of Human Services (DHS). Prior to the COVID-19 pandemic, my team had been ramping up user experience (UX) work for DHS and building a self-service model for the services the agency provides. 
DHS serves a very vulnerable population, so digital equity is a huge piece of that. As we've learned through the COVID-19 pandemic response, everybody is relying on technology. If there are portions of a population that can't use our systems, the crisis they may be in is compounded by not being able to use a website or a remote conferencing tool. We had to keep learning through that process. 
COVID-19 also forced us to rethink how we approach self-service. We will need to partner with communities, other agencies, and partners to really get at digital equity. Even within our own work at the state, the transition to new technology can be taxing. It's really stretched us, but it's shown us how we can help our agency partners adopt services in a proactive way. The pandemic exposed where we have a lot of work to do, but it's exciting to all of the potentials.  
Throughout this work, I've seen a lot of women leading many of the projects I've worked on this past year. I had probably taken that for granted, but looking back on that, it was women's voices in the mix.
Wee: I am sitting here listening to you guys feeling more inspired than I had been. Websites are the primary communication tool for a lot of agencies. At the Minnesota Department of Education (MDE), which I support, distance learning and the need for virtual communication taxed our web infrastructure. MDE's Commissioner and the Governor provided updates to Minnesotans and we needed to make sure we were understood MDE's communications plan. We knew that the websites were going to get slammed, and I spent a lot of sleepless hours just watching those hits get higher and higher on the websites.
It was also a great learning opportunity because I learned so much about things that I took for granted. I've worked for the state for 30 years, and with MDE 20 of them, but I learned so much just by going through this pandemic with them. It has been a wonderful learning experience 
Wieckowicz: A lot of the COVID-19 efforts that I've worked on over the last year allowed me to work with new teams, other units at MNIT, other agencies. I like to learn other business processes and solutions, and how they kind of do the same things that maybe my unit would do.
I also get to learn about technology from them. I worked with Joan Redwing's group on the COVID-19 testing enhancements. We helped build web pages where the public can find information about testing close to them, and a couple of other COVID solutions that required integration with geospatial data across the state. 
What has inspired you most about this past year?
Davison: This is a hard question. I was thinking about the ways my own boss has coached me. The things that inspired me this year were those people who reached out with full-on empathy and an effort towards inclusion. We didn't have the time to keep deferring conversations. There have been moments that were hard, where we've looked to our business partners to change the way they work. They've had to step up and shift their work to accommodate our technology. As technologists, we're not here for ourselves. We're here to help our agency partners get an advantage against whatever they're fighting – poverty, unemployment, or a pandemic. 
A couple of years ago we had Prime Academy students conduct UX research with our team. They picked on the fact that people who work in civil service can suffer from compassion fatigue. If you suffer from that, it's hard to sustain, especially for women leaders. It's taken those that really use empathy to inspire us all to do more. I think of Kris Schulz, MNIT's Experience IT Manager, leading service adoption training across state agencies. She's inspired me in many, many ways. She's led as an army of one.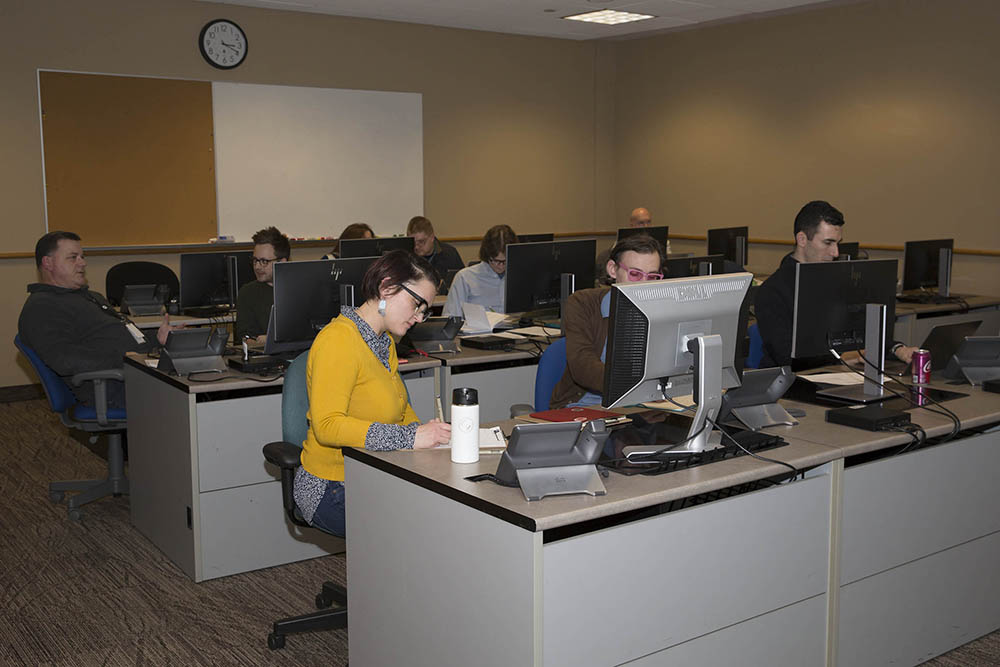 Prime Academy students leading human-centered design interviews in February 2020.
Redwing: The key phrase here is empathetic leadership. That has really helped our team succeed and prevent burnout. We haven't taken our foot off the accelerator, but we want to go beyond the golden rule. We really are stepping outside of our own needs, and actively listening to our team members across MNIT. 
We've become flexible, adaptable, and boundary-less. I can't tell you how many times I've seen people share roles or take on a part-time assignment to help another team out. Or go above and beyond their current role. To me, that has been extremely powerful. It fuels our collaboration and innovation. It's been a good experience, and not something taught in Technology Management Training 101. We also are learning the fundamentals of managing well-being under stress and how that contributes to tangible results for individuals, teams, and MNIT. 
Wieckowicz: The most inspiring thing to me was MNIT's collective response to the pandemic. The effort to provide services, support a remote workforce, and break down barriers was something I've never seen before. There was no one saying, "We can't do that." We proved everyone wrong about what we could do. When I saw other people working under the stress and fatigue I felt, and watched them succeed, I was inspired about what I could do myself.  
What support systems do you have to help you be successful?
Redwing: I really appreciate that my leaders have been realistic and authentic about the fact that this pandemic has not been fun or fantastic for everyone involved. When a colleague has a bad day and needs some support, you don't have to try to paint on a happy face. By sharing a sense of realism around this pandemic, we see how important it is to bring our authentic self to work and count on each other. 
I had a particularly bad presentation a few months ago on a bad day for me. I had a lot going on at home in the background and didn't hit all my points. Jeff Nyberg, my leader, and MNIT's Chief Technology Officer, was at the meeting, and he helped me communicate everything I needed by asking great questions after I presented. It really made me feel like I had support. 
That's the support we all need — and it's great when it is realistic and authentic. 
Wee: I think I really appreciate what you're saying about bringing your authentic self. As a woman in IT, I sometimes have to be more quiet and wait for an opportunity. But I also know that helps me be a very observant person, and people appreciate that. Through this pandemic, people are more appreciative of whatever role you can bring to the table that day. 
If you have a bad day, people are willing to take the extra couple of minutes to hear you out. My leader, Chief Business Technology Officer, Matthew Porret has been amazing. He has been very supportive to everyone on a personal level, and it's given me the okay to feel bad sometimes, to be afraid, to not feel sure sometimes. It's okay to have those conversations.
I've seen a shift happen at MNIT, too. We've had the opportunities to learn in a virtual space, to hear from the Commissioner, to reflect and come together. We have a common goal of getting the public through this, and I feel like I've seen a strategic shift that has energized me more in my work over this past year. 
Davison: We've talked a lot about self-care, and I want to also mention how important that is for those doing change-agent work. Those individuals that are speaking up and evangelizing the work of accessibility, diversity, and inclusion. Or maybe you're the one throwing the flag on the line when a product isn't really hitting the mark and you know it's going to be disruptive or cause a big delay. A lot of times those individuals are armies of one and can feel really isolated.
It's so important to buddy up with people who are going through similar things. Those of us that do change-agent work used to seek each other out and do a coffee date or grab lunch. Now it's a virtual meeting, but that's a really great way I've seen support and is my support network these days. That's been so valuable. 
Note: These responses have been condensed and edited for clarity.