By Jennie Delisi, Accessibility Analyst
Think back to Minnesota, in the year 2009. How often did the phrase "digital accessibility" come up in your work conversations, meetings, or at conferences?
Did you read about people being recognized for their work in this area? How about being recognized for work in accessibility with an award that was not focused on digital accessibility?
For many of us that work in this area, the answer was: seldom or never.
Fast forward to 2019…
Nine state employees in Minnesota were finalists for awards recognizing their advocacy, skills, and work in digital accessibility this November and December. Better yet, one state employee won an award! You read that correctly, 10 state employees in 2 months!
First, a little about them and the non-accessibility focused awards for which they were nominated.
Quality Assurance Teams Championing Digital Accessibility
The Minnesota IT Services (MNIT) Team of the Year award recognizes an operational team across the agency that provides excellent customer service for both the executive branch partners and Minnesotans using state technology. At MNIT, accessibility is a part of the agency's quality assurance work and when MNIT announced the finalists for this annual award, not one but two quality assurance teams were recognized.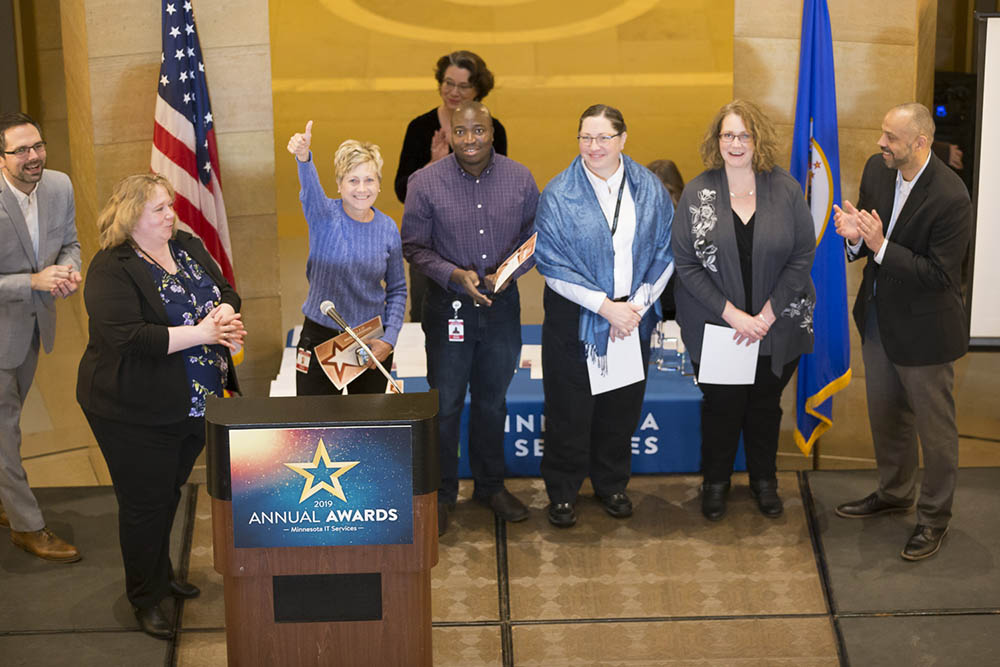 The first finalist, MNIT Central's Quality Assurance Team, is often in the right place, at the right time. They are an important part of large teams working on projects that impact all state employees. Their projects include major system upgrades and rollouts of new products and services. In meetings they are often the ones asking, "What about accessibility?" because they know that early consideration improves the accessibility of projects overall, and saves time and money. This year they went from a team that thought about the importance of digital accessibility to incorporating it into their projects and creating plans to increase their knowledge of digital accessibility. In addition, they were major players in the digital accessibility testing of a large system upgrade, while working in partnership with the Office of Accessibility.
Also recognized as finalists, the MNIT partnering with the Department of Human Services EAQAT Team is passionate about the relationship between quality assurance and digital accessibility. The team's primary focus is creating quality assurance (QA) test plans, test cases, and QA test closure documents that address digital accessibility. This team uses and develops data collection tools, shares information, and takes pride in the work they do every day.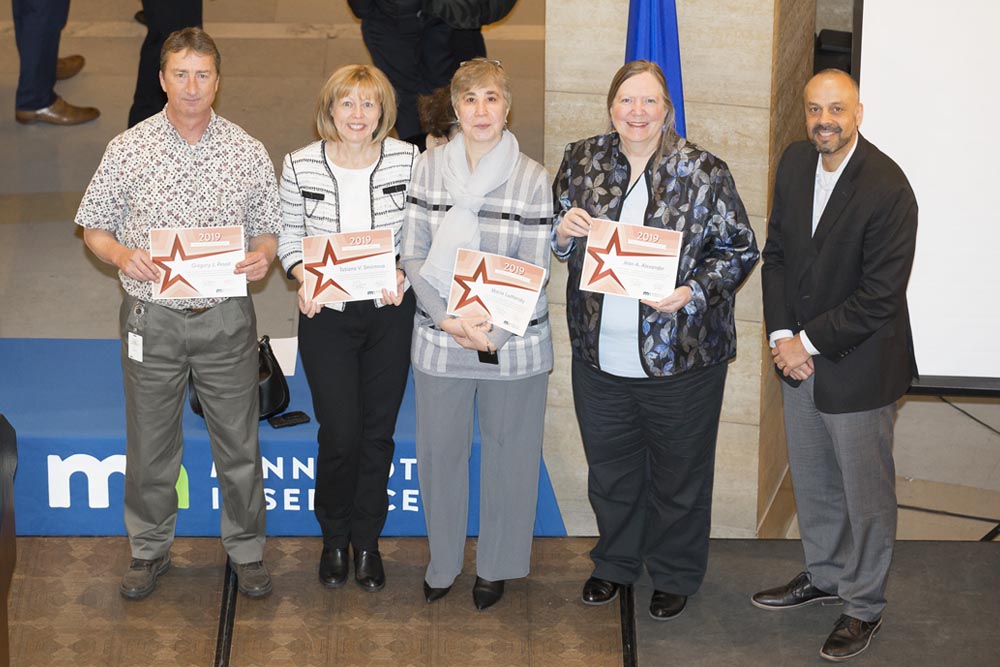 Inspiring Leaders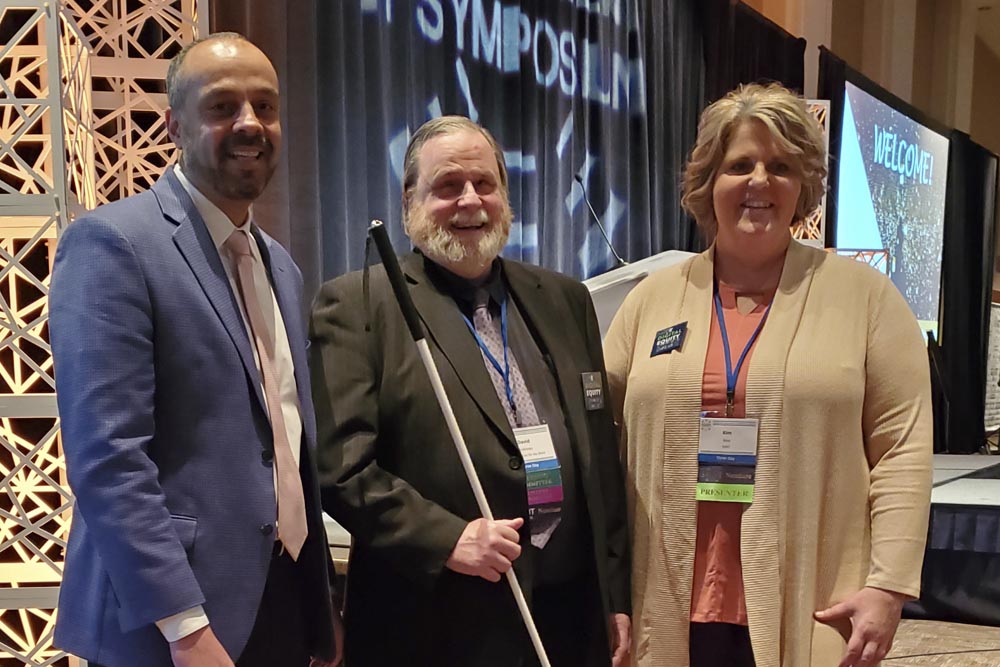 The Golden GOVIT Awards are given at the Government IT Symposium in Minnesota, held every December. They "recognize government agencies and other public sector institutions that have advanced government technology through collaboration, innovation and service." Nominations were given by peers, to those they felt champion and implement innovation, inspire collaboration, are focused on improving service, and demonstrate "a personal commitment to advancing the professional and career development of him/herself as well as others in their agency." Two state employees that have dedicated their careers to digital accessibility were selected as finalists.
Kim Wee has a passion to ensure all Minnesotans are able to use the information developed in partnership with the Minnesota Department of Education (MDE) "in the same way, regardless of their disability or special technology needs." As a MNIT employee, she is always learning about digital accessibility and applications, participating in accessibility committees, and building websites with accessibility in mind. She presents locally and nationally on digital accessibility and is known as an accessibility expert by her colleagues at MNIT, MDE, and in other agencies.
David Andrews, Chief Technology Officer at State Services for the Blind, won the Golden GOVIT Individual Leader Award! He is known by many in the community not only for his long-standing commitment to improving digital accessibility in the state, but also for his willingness to share his knowledge and train others. Dave's advocacy as part of a group of dedicated individuals led to:
The passing of the State of Minnesota's digital accessibility law,
The hiring of the Chief Information Accessibility Officer, and
The establishment of the Office of Accessibility.
As part of this journey, he co-chaired the Technology Accessibility Advisory Committee for the State of Minnesota.
Others around the world know Dave as a member of the Minnesota Assistive Technology Advisory Council, an author and invited expert on the ePUB Accessibility 1.0 W3C submission in 2017, and conference presenter.
Impact
What is most remarkable about these awards is that neither were specifically looking for individuals that work in digital accessibility and yet these individuals and teams stood out. Some colleagues will read the nominations and learn about digital accessibility for the first time. Others will better understand how digital accessibility is an important part of all digital information work: its purchase, creation, and upgrading/maintenance. Best of all, this is where we want digital accessibility to be – a part of everyday technology conversations.
This is a great way to close this calendar year on a high note. Let's celebrate the achievements of these individuals and the dedication of the Minnesota digital accessibility community. This is a strong (and growing) community!
Consider your own team members doing great work in digital accessibility. In 2020, commit to seeking out opportunities to help others learn the value your colleagues bring as they promote inclusion and create digital spaces and information that can be used by all.