For Immediate Release
SAINT PAUL — Minnesota enjoyed continued strong growth in electricity generated by solar energy during 2018, with installed capacity increasing by 47 percent over 2017, according to data compiled by the Minnesota Department of Commerce.
Most of the growth in 2018 came from more than 100 new community solar gardens built across the state. In 2017, most of the new capacity had come from several large "utility scale" solar projects
By the end of 2018, Minnesota's total solar capacity was 882 megawatts (MW), enough energy to power more than 100,000 homes. The Commerce Department projects that Minnesota's installed solar will surpass one gigawatt (or 1,000 MW) during 2019.
"Solar is becoming an ever brighter part of Minnesota's clean energy landscape," said Commerce Commissioner Steve Kelley, whose agency administers the state's energy policies and programs. "Solar is not only generating electricity. It is creating jobs and business opportunities, while also supporting a cleaner, healthier environment."
Legislation passed in 2013 helped pave the way for solar success. The state set a Solar Energy Standard that requires investor-owned utilities to obtain 1.5 percent of their electricity sales from solar by 2020, with a goal of 10 percent by 2030.  Legislation that required Xcel Energy to develop a community solar program is an additional catalyst for Minnesota's solar growth
Minnesota is nation's leader in community solar
At the end of 2018, Minnesota had 508 MW of community solar, the most of any state in the nation. While most of that total comes from community solar gardens in Xcel territory, customers in 30 utility territories in Minnesota are able to subscribe to community solar.
With community solar, Minnesotans can benefit from a solar energy system without building a solar array of their own. A subscriber participates in a larger solar energy system along with other subscribers. Each subscriber's share of the electricity generated by the system is credited on their utility bill.
Solar energy provided a little over one percent of Minnesota's total electricity generation in 2018, up from just .02 percent two years ago. Solar growth is expected to continue due to declining costs, solar-friendly policies and incentives, and demand from consumers, businesses and utilities.
Minnesota Installed Solar Capacity

| | |
| --- | --- |
| 2015 | 32 MW |
| 2016 | 201 MW |
| 2017 | 598 MW |
| 2018 | 882 MW |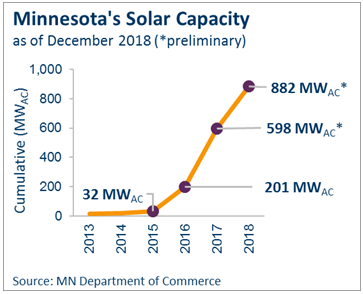 NOTE: Utility solar installations are large systems, usually built and owned by a utility. Community solar installations, of various sizes, allow utility customers to subscribe to a share of the energy they generate. Distributed solar installations are built on-site for residential, commercial, government or nonprofit owners.
Commerce is here to help
Media Contact
Ross Corson
Director of Communications
Minnesota Department of Commerce
p: 651-539-1463 | c: 651-368-5050 | ross.corson@state.mn.us