Join the Team at Minneapolis
Immediately hiring for Certified Nursing Assistant, Licensed Practical Nurse and Registered Nurse positions.
Job spotlight - Human Services Technician/Certified Nursing Assistant (CNA)
This role provides compassionate, person-centered care and assists with activities of daily living, ensures safety and quality of care is provided and helps residents to attain their highest functional capabilities.
Open to individuals registered as a Nursing Assistant with the Minnesota Department of Health (MDH) OR enrolled in, or have completed, a CNA training course and competency evaluation program but not yet registered with MDH.

Must be enrolled or have completed Nursing Assistant training course and competency evaluation program and on track to become a registered CNA within four months of hire, OR
Have completed the Nursing Assistant training course and competency evaluation program and committed to become registered within four months of hire.
Grow a meaningful and rewarding career with us!
$2,500 new hire bonus for qualifying roles.*
High-quality CMS ratings.
Good staffing ratios.
Diverse workforce.
Shift differential pay for qualifying roles and pay ranges.
Employee wellness and engagement programs.
Low cost, comprehensive medical and dental insurance. Paid holidays and generous vacation, sick leave and paid parental leave.
Career enhancement and educational opportunities.
State of Minnesota retirement plan.
Employee referral bonus.*
Call, text or email us about our job opportunities!
Contact Human Resources at MDVA_Mpls.HR@state.mn.us or 612-548-5989.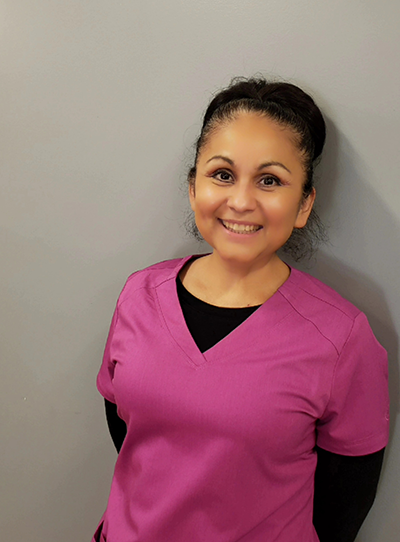 I've really loved and enjoyed working at the Minnesota Veteran's Home - Minneapolis for the last 18 years. I work in our fitness gym to help Residents maintain their mobility while assisting them in their daily activities. I'm very proud to work here especially with our supportive management and diverse staff who are so nice and good at what they do. I invite anyone to come work with us and give back to our Veterans. You'll get back more than you ever put into it.
– Maria P., Human Services Technician/Certified Nursing Assistant