Monument to the Living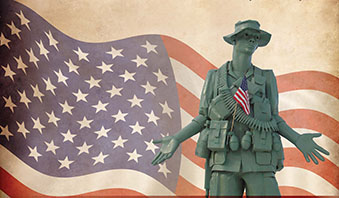 Sculptor: Roger Brodin
Dedicated: Memorial Day,1982
Location: This memorial is located to the west of the Veterans Service Building.
Description: The statue stands 12-feet high. It consists of 1,500 steel pieces hammered and welded together. The statue depicts a returning Minnesota soldier dressed in full combat gear. He represents all the living Veterans who came home from war to help other Veterans preserve the memory of their fallen comrades. His outstretched arms ask the viewer for recognition and acceptance.
History: The statue was paid for by funds raised by the Veterans of Foreign Wars chapters throughout the state, as well as a little assistance from the American Legion. No state funds were used. The design was the work of a whole committee of people. Sculptor Roger Brodin was a Vietnam Veteran and struggled with PTSD. Creating the statue was a way for him to deal with that. The statue traveled around the state until finally being placed on the Capitol grounds.
Note: Another statue by Roger Brodin, The Sky Soldier, is located in the Veterans Service Building.