The Veterans Woodshop
The Veterans Woodshop provides a therapeutic working environment that allows our Veterans to learn and/or excel in the woodworking trade. The Veterans Woodshop produces high quality and individually handcrafted flag and memorabilia cases, plaques, signs, picture frames and many other specialty items. These products are available for purchase and can be shipped all over the United States and Canada. Public support for the Veterans Woodshop enables this program to continue and most importantly, improves the quality of life for the Veterans we serve.
Our Flag and Memorabilia Cases Feature:
Individually handcrafted
Your choice of solid select clear oak or maple
Glass front
Easy to remove back
Hand rubbed Tung Oil finish
Color choice of felt lining
Engraved plate with name and service of the Veteran
Personalized glass etching available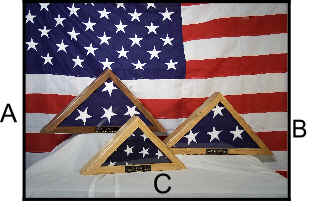 A. Solid maple flag memorial flag case.
B. Solid oak memorial flag case.
C. Solid oak case displays a 3'x5' flag.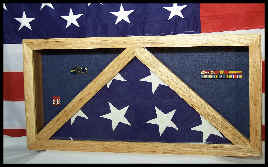 D. Oak case displays a 5' x 9' memorial flag and memorabilia.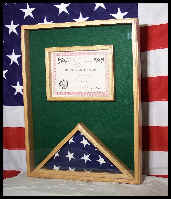 E. Oak case displays memorabilia or a certificate and a 3' x 5' flag
    F. Cherry Flag case, etc.
Custom orders and specialty items are available
These handcrafted items made by Veterans are available for purchase by the general public. To place an order please refer to the online order form.
For more information or specialized orders, please contact the Woodshop Coordinator at 651-539-2486 or at hastingswoodshop@state.mn.us.