Minnesota Support Our Troops License Plate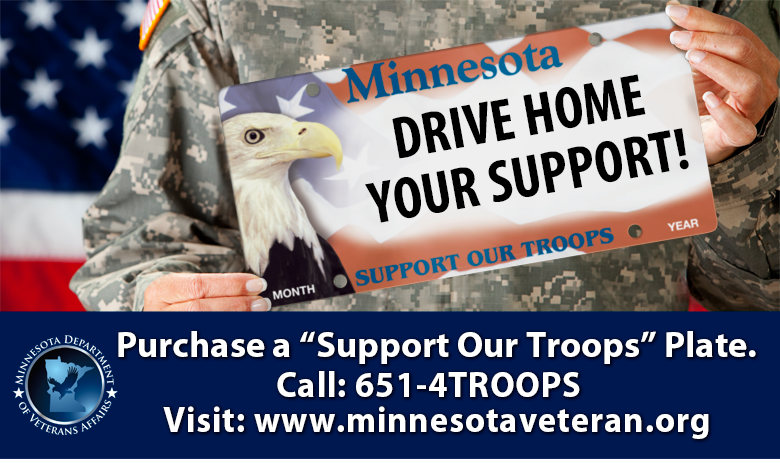 Drive home your support for Minnesota Military members, Veterans and their families by purchasing a Support our Troops (SOT) license plate for your car or motorcycle.
The Minnesota Department of Veterans Affairs, together with the Minnesota Department of Military Affairs, will use your annual minimum contribution of $30 for the betterment of military families and homeless and underserved Veterans around the state.
Deployments and military service can put a strain on families, finances and health. Here's how your donation helps Minnesota military, Veterans and families:
Benefits CORE, which provides family counseling, with specialty services available for children; financial counseling, debt management and mental health counseling.
Emergency financial assistance
Grants through Support our Troops program
Helping Homeless Veterans secure shelter and access to benefits
Outreach to diverse communities across Minnesota, helping provide Veterans with access to the benefits they have earned
Community seminars on health conditions associated with military service
To purchase SOT plates, visit your local DMV office or call (651) 4Troops (487-6677).
SOT plates are also available from dealerships! Be sure to ask about SOT plates when you purchase your next new or used vehicle.
Related items:
Grant Recipients Announced
MDVA offers grant opportunities ranging from $1,000 to $100,000 from the Minnesota "Support Our Troops" License Plate Program for the purpose of supporting and improving the lives of Veterans and their families.
Congratulations to the first grant recipients for 2016:
ARS Bellum Foundation - $18,515
Provide, at no cost to Minnesota Veterans, eight week Art Therapy Sessions with a certified art therapist to help them in their struggle against the traumatic effects of Post-traumatic Stress Disorder (PTSD) in their personal lives, relationships, and careers.  

Pets Loyal 2 Vets - $65,000
Provide highly trained service/therapy dogs free of cost to Minnesota Veterans suffering from Post-traumatic Stress Disorder (PTSD) Traumatic Brain Injury (TBI) and/or sexual assault trauma.