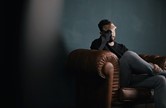 June is Post Traumatic Stress Disorder (PTSD) Awareness Month. The Minnesota Department of Veterans Affairs (MDVA) is committed to serving Veterans who suffer from this mental health issue. PTSD can develop at any age, is influenced by several factors, and is especially common among Veterans. Symptoms include upsetting memories, feeling on edge, or trouble sleeping after a traumatic event. If these symptoms persist for more than a few months, you may have PTSD. Check out these resources to help better understand and cope with PTSD:
National Center for PTSD
Learn about symptoms, explore treatment options, locate care services and self-help resources, and find support for family and friends impacted by a PTSD diagnosis.
LinkVet - Veterans Linkage Line
1-888-LinkVet
LSS CORE Program
Lutheran Social Service (LSS) of Minnesota and the Minnesota Department of Veterans Affairs (MDVA) partner to support military members, Veterans and their families. CORE stands for casework, outreach, referral and education. LSS CORE offers a wide range of services including behavioral health and financial counseling, caregiver respite, and support groups.
PsychArmor
PsychArmor is a national nonprofit organization providing education and training to improve the health and life outcomes of military-connected individuals. Every Minnesotan whose path may cross that of a Veteran can benefit from gaining a better understanding of the military culture and the occurrence of PTSD within this population. There are more than 250 online, self-paced courses – all free of charge - for employers, family members, faith communities and more.
Mental Health First Aid for Veterans, Military Members and their Families
This program, directed toward military members, Veterans and families, and friends of military members or Veterans, teaches individuals how to identify, understand and respond to signs of mental illnesses and substance use disorders. It provides the skills needed to reach out and offer initial support to someone who may be developing a mental health or substance use problem – sometimes as a result of PTSD – and help connect them to appropriate care. When more people are equipped with the tools they need to start a dialogue, more people can get the help they need.
Veteran Resilience Project
Veteran Resilience Project (VRP) is a Minnesota based, non-profit organization that trains and makes referrals to a statewide network of accredited therapists who provide confidential EMDR therapy (Eye Movement, Desensitization, and Reprocessing) to all Veterans: Active Military, Reserves, and National Guard. EMDR is a psychotherapy technique used to address anxiety, panic and PTSD. VRP reaches out to and serves those who experience trauma, post traumatic symptoms, adjustment challenges or moral injury, both on and off the battlefield. VRP offers EMDR at no cost to those who served.
Gunlocks
Through the end of June, MDVA will be airing Public Service Announcements (PSAs) on Twin Cities FOX 9 TV to encourage gun owners to lock their weapons with a gun lock to help prevent Veteran suicide. A locked gun can mean the difference between a tragic outcome and a life saved for someone in crisis. To request a gun lock, please email SuicidePrevention.MDVA@state.mn.us with your name and address. Information will not be shared; all requests are confidential.
National Suicide Prevention Lifeline
1-800-273-8255
This service offers confidential help for Veterans and families; Lifeline responders are trained in crisis intervention and military culture. By August 2022, individuals will also be able to access suicide prevention assistance simply by dialing 988. An easier to remember and share dialing code in times of need, callers will continue to be routed to the National Suicide Prevention Lifeline. The 1-800 number will remain intact. Veterans may still seek help through chat and by text (838255).
Federal VA Health Care System
MDVA is committed to helping Veterans connect to care, community resources, programs and services that ultimately help them address a variety of challenges and get to a better place – physically, emotionally and socially. We're here to walk with you toward healing, health, wholeness and wellbeing. Learn more here.