Veteran Suicide Prevention
Preventing Veteran suicide is a priority for the Minnesota Department of Veterans Affairs.Suicide has claimed more than 100 Minnesota Veteran lives per year during the past five years. As this rate continues to increase, especially among younger Veterans, the Minnesota Department of Veterans Affairs is collaborating with others to identify the root causes of Veteran suicide and create an innovative, cooperative way to reverse this trend. We are working toward zero Veteran deaths by suicide in Minnesota.
First Steps for Veterans or Helping a Veteran
If you or someone you know is in crisis, please call the Veterans Crisis Line 1-800-273-8255, press 1.
The Veterans Crisis Line is the world's largest provider of crisis call, text, and chat services, according to the U.S. Department of Veterans Affairs. It serves more than 650,000 calls every year, 24 hours a day, 7 days a week. Users also may text to 838255 or chat online to receive confidential crisis intervention and support.
S.A.V.E. Training
The acronym S.A.V.E. can help one remember important steps involved in suicide prevention if you encounter a Veteran in crisis:
S – Signs of suicidal thinking should be recognized.
A – Ask the most important question of all: Are you thinking of killing yourself?
V – Validate the Veteran's experience.
E – Encourage treatment and expedite getting help.

About Veteran Suicide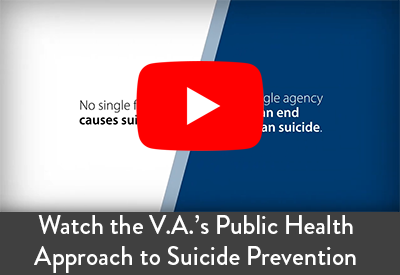 Veteran suicide is often the result of a combination of factors, including mental or physical illness, alcohol or drug abuse, painful loss, exposure to violence, social isolation, and access to lethal weapons. Veterans are at a higher risk for suicide than the civilian population.
PREVENTS
Suicide is preventable – but only if we empower ourselves and others with the knowledge, tools and resources we need to reach those who feel hopeless.
On March 05, 2019 the President signed Executive Order 13861, known as The President's Roadmap to Empower Veterans and End a National Tragedy of Suicide (or PREVENTS) calling for the development of a comprehensive all of government and whole of nation approach. PREVENTS will accomplish the bold goals of the Executive Order through coordinated suicide prevention efforts, prioritized research activities, strengthened collaboration across the public and private sectors and a national public health campaign. Together we will prevent suicide for our Veterans and all Americans.
PREVENTS has launched a campaign called REACH! REACH is about preventing suicide. It is for and about everyone because we all have risk and protective factors that we need to recognize and understand. When we REACH to those in need, we will provide hope. When we REACH because we are hurting, we will find help. When we REACH, we will prevent suicide.

Suicide Prevention in Minnesota
Minnesota hopes to increase the ability of its local communities to coordinate culturally appropriate suicide prevention activities through the following objectives:
Support healthy and empowered individuals, families, and communities to increase protection from suicide risk.
Coordinate the implementation of effective programs by clinical and community preventive service providers to promote wellness, build resilience, and prevent suicidal behaviors.
Promote suicide prevention as a core component of health care services.
Increase the timeliness and usefulness of data systems relevant to suicide prevention, and improve the ability to collect, analyze, and use this information for action.
Sustain suicide prevention efforts.
Read more about Minnesota's Suicide Prevention State Plan.
Governor's Challenge
In March 2020, Minnesota was selected as one of seven states to participate in the "Governor's Challenge" to eliminate Veteran death by suicide. This is a collaborative effort with the United States Department of Veterans Affairs (VA), Veterans Health Administration (VHA), and the Substance Abuse and Mental Health Services Administration (SAMHSA). Together, we will implement state-wide suicide prevention best practices for service members, Veterans, and their families, defining and measuring the success of their work.
Minnesota Governor Tim Walz has directed multiple state agencies, including the Minnesota Departments of Veterans Affairs, Military Affairs, Higher Education, Human Services, Health, and Agriculture, to prioritize this effort and work alongside other state, federal and local organizations. Veteran Suicide Prevention Training is already underway at MDVA to help employees understand the signs of suicidal behavior so they can connect with Veterans before they reach a crisis point.
"Grassroots efforts are how we will be able to make a difference." That is a key takeaway for the Minnesota Governor's Challenge Team who recently attended a virtual training sponsored by the VA, VHA and SAMHSA and finalized Minnesota's Veteran Suicide Prevention Strategic Plan. This plan will be implemented over the coming year and includes four priority areas:
Identifying and screening those currently serving Military, Veterans and Families at risk for suicide
Promoting connectedness and improving care transitions
Conducting lethal means safety planning and education
Ensuring a comprehensive approach

The team's summary poster noted that "Suicide prevention is everyone's business" and providing prevention training across the state is key to reducing Veteran death by suicide.
Resources