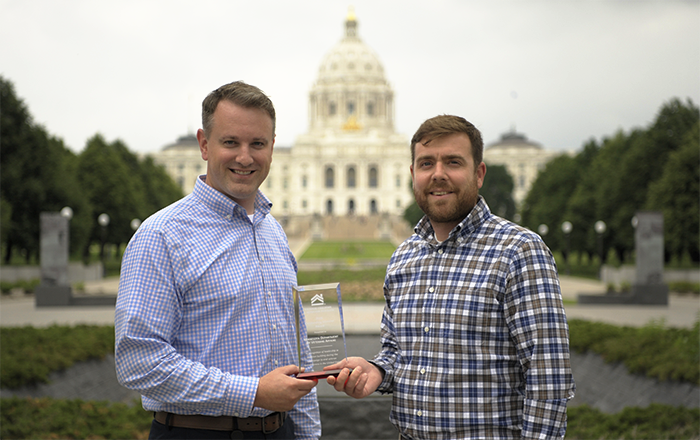 The National Coalition for Homeless Veterans (NCHV) held their Annual Conference the last week of May in Washington, D.C. The Conference focuses heavily on ending Veteran homelessness and improving communities across the United States. This year's NCHV conference ended with a surprise when the Minnesota Department of Veterans Affairs (MDVA) was presented with the Outstanding Member Award. MDVA was unaware that they were nominated for this award, which made it even more significant to accept. "This honor is awarded to an NCHV member organization whose programs, partnerships, and people combine to create extraordinary results." This year's award was in recognition of MDVA's leadership in building alliances to help end Veteran homelessness in Minnesota and across the country.
 MDVA's Homeless Veteran Coordinator, Ben Wilson, and Veterans SOAR Lead, Paul Williams, were invited to the NCHV conference to highlight the important role SOAR has played in Minnesota's mission to prevent and end homelessness among Veterans. SOAR is a program designed to increase access to Social Security Income and Social Security Disability Insurance for those who are eligible, homeless or at-risk. 
 MDVA has employed a variety of community partners throughout Minnesota to ensure that we are identifying all Veterans experiencing homelessness. We want to rapidly connect them through the use of resources, such as the Homeless Veteran Registry, to strengthen statewide partnerships and to help resolve housing crises. To accomplish the mission of ending homelessness, it requires continuous outreach and engagement of partners from the federal, state, tribal, and local government, nonprofits/nongovernmental groups, all the way to the individual citizen. When we are all working together and focused on a common goal, it allows us to hone in our efforts to solve the complex issue of ending homelessness among Veterans, and using those lessons learned to share homelessness among all other populations. MDVA has also committed to using SOAR to assist eligible Veterans in need by connecting them with Social Security Benefits. MDVA has committed to building and strengthening state and federal partnerships to increase the effectiveness of the program, as well as future sustainability. 
 Ben Wilson gave a presentation at the Conference on leveraging federal and national initiatives at the local level. He presented alongside Mark Walker, Deputy Director National Veterans Employment & Education Division and American Legion, in a first-of-its-kind "incubator" session, about how to leverage all of the national attention on Veteran homelessness to create a real impact in Minnesota. A variety of topics were discussed- in an open forum type panel, including- the main focus of how to collaborate with federal partners and implement national initiatives at the state or local level.
Learn more about the NCHV conference and MDVA's efforts to end Veteran homelessness.