I am a Veteran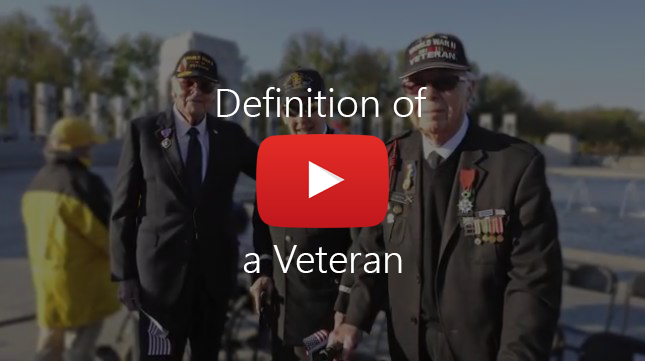 Welcome to a place that is dedicated just to you and your service. MDVA acknowledges the sacrifices made by Veterans like you, one of more than 308,000 across Minnesota. From World War II to the current conflict, a debt of gratitude is owed to your service.
We often hear what appears on the surface to be a simple question, What is a Veteran? Too often, we hear people talking and they equate Veteran status only to someone who has served in combat. Our youthful Veterans think they are too young to be a Veteran, even though they served or are currently serving in the military. There are many interpretations of the word Veteran. The following are the state and federal definitions of a Veteran, which will assist in determining the benefits you have earned as a result of your military service.
Watch our video and take our interactive quiz to learn about the qualifications for Veteran status.

State
Minnesota Statute 197.447 defines a Veteran as a citizen of the United States or a resident alien who has been separated under honorable conditions from any branch of the armed forces of the United States after having served on active duty for 181 consecutive days or by reason of disability incurred while serving on active duty, or who has met the minimum active duty requirement as defined by Code of Federal Regulations, title 38, section 3.12a, or who has active military service certified under section 401, Public Law 95-202. The active military service must be certified by the United States secretary of defense as active military service and a discharge under honorable conditions must be issued by the secretary. Therefore, to be eligible for any Veteran program with the State of Minnesota, you must meet the definition contained in this statute.
Federal
Title 38 United States Code section3.1(d) states, Veteran means a person who has served in the active military, naval, or air service who was discharged or released under conditions other than dishonorable. On the surface, this seems simple enough. However, different VA programs have special service requirements. For example, entitlement to non-service connected pension benefits requires that a Veteran serve a minimum of 90 days active duty and be discharged under conditions other than dishonorable. One day of this service must have been during a federally defined period of war.
Please contact your County Veterans Service Officer (CVSO) to find what benefits and programs you may be eligible to receive.
To find your CVSO visit www.macvso.org or call 1 (888) LinkVet (546-5838). Request your DD 214.

Women Veterans
Women Veterans is the fastest growing subset of the Veteran population. Women serve in every branch of the military and now can serve in every occupation. They make up approximately 15 percent of the active duty military and 18 percent of the Guard and Reserve forces. Learn more about MDVA's Women Veterans Program, and resources for women Veterans.