Homelessness and Prevention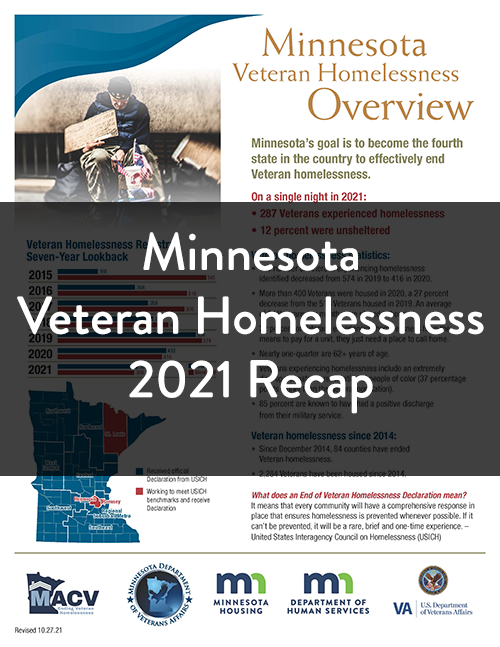 Ending Veteran homelessness is our moral imperative, a duty to those who have served us.  We cannot rest while the brave men and women who served to protect our communities experience homelessness within them. Heading Home: Minnesota's Plan to Prevent and End Homelessness first developed in 2015, set the goal of ending homelessness, Veteran by Veteran, in Minnesota.
Since that time, the Minnesota Department of Veterans Affairs (MDVA), its partners, and most importantly, the Veterans served, have achieved more than 2,000 housing outcomes for Veterans in Minnesota. As a result, seven of the 10 Continuums of Care (CoCs) in Minnesota have declared an end to Veteran homelessness. These declarations have been recognized by the United States Interagency Council on Homelessness (USICH). The CoCs that have declared include: West Central, Northeast, Northwest, Southeast, Southwest, Suburban Metro Area and Central Minnesota.

A declaration of an end to Veteran homelessness does not mean there will never again be another instance of homelessness among Veterans. The unpredictability of life means that Veterans may face housing crises and experience homelessness. When homelessness is unpreventable, we hope to ensure this instance is a brief, nonrecurring experience, with a rapid return to housing. MDVA and its partners are here to provide each Veteran and their families experiencing homelessness with appropriate, effective solutions. We have the system and resources available to Veterans in need. Together, we can ensure that every Veteran in Minnesota has a place to call home.
Attention: Landlords. Provide Homes for Veterans.
Homes for Veterans offers landlords the opportunity to confidently open the door to Veterans currently experiencing homelessness. Significant resources have been invested in Minnesota's efforts to end Veteran homelessness, and providers are working together to find homes for Veterans, but a critical link to housing process is landlords in the community.
Veteran Temporary Emergency Housing Assistance Program (V-TEMP)
Minnesota has areas considered "shelter deserts" with little to no access to temporary emergency housing for Veterans or former service members and their households experiencing homelessness.
The Minnesota Department of Veterans Affairs (MDVA) appreciates the partnerships of all organizations in supporting our former service members and their households in providing a reprieve from the outside. The Veteran Temporary Emergency Housing Voucher Program (V-TEMP) will provide reimbursement to Community Service Providers covering the cost of a temporary hotel room or non-congregate temporary unit for Veterans or former service members and their households, who are actively experiencing homelessness and have no other sheltering options available to them at this time.
To participate, the Community Partner or Service Provider should read the V-TEMP Program Guide, and then review and submit the following forms:
Return all forms to vtemp.mdva@state.mn.us.
Once these forms are reviewed and the MDVA Homeless Programs Coordinator (HPC) has verified the status of the Veteran or former service member – typically within 24 hours excluding weekends and holidays – the organization can be confident that the hotel nightly room cost will be reimbursed. Reimbursements may be backdated to referral date.
The MDVA HPC will provide confirmation to the Community Service Provider. Once confirmation has been received, the Community Service Provider should submit:
Submit via email to the MDVA HPC vtemp.mdva@state.mn.us.
To learn more, email vtemp.mdva@state.mn.us.
Minnesota Homeless Veteran Registry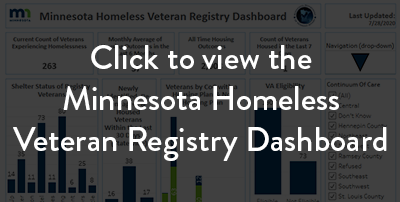 To help Veterans experiencing homelessness access stable housing and other services, MDVA created the Minnesota Homeless Veteran Registry.The Registry connects Veterans experiencing homelessness with housing and services in their community. It also helps programs and partners serving Veterans to coordinate their efforts. Anyone who served in the U.S. Armed Forces, Reserves, or National Guard can join the Registry, regardless of the type of discharge or length of time in the service. If you are a Veteran and choose to join, a team of housing and service professionals will work together to help you access housing and services that meet your needs. Participation is voluntary for Veterans. Choosing not to participate will not affect eligibility for services.
Anyone who knows of a homeless Veteran is encouraged to call 1-888-LinkVet (546-5838). Veterans can choose to join directly and anyone can refer a Veteran to join by completing the release of information form available at the Minnesota Homeless Veteran Registry webpage.

SOAR
The Minnesota Department of Veterans Affairs has partnered with the Minnesota Department of Human Services and the United States Social Security Administration to provide Minnesota's homeless and at-risk Veterans with expanded access to Social Security Income and Social Security Disability Insurance benefits. Learn more at our SOAR page.
Resources for Veterans
Resources to help Veterans end homelessness are listed on LinkVet and include the following programs: