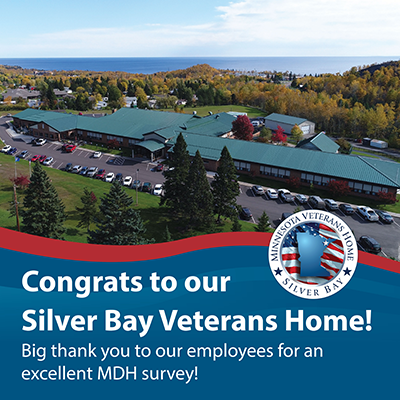 Congratulations are due to the employees of the Minnesota Veterans Home - Silver Bay! The team recently received an "unheard of" excellent result for their annual quality survey. The facility not only was found to be in compliance to maintain its nursing home license but received zero deficiencies from the surveyors!
During the ongoing COVID-19 pandemic, long-term care facilities are challenged to maintain excellence in all aspects of operations and Resident care. To ensure nursing homes continue to always meet high quality standards, the Minnesota Department of Health (MDH) visits every long-term care facility in the state at least once a year. MDH conducts surveys on behalf of the federal Centers for Medicare & Medicaid Services (CMS).
On January 3 - 6, 2022, the Silver Bay Veterans Home hosted a survey team from MDH for a standard recertification survey. The process ended with the surveyors sharing their findings which included no citations.
"This is an incredible accomplishment for many reasons," notes Simone Hogan, MDVA Senior Director – Veterans Healthcare. "During the COVID pandemic, the survey teams have been very critical in this regard, assessing policies and practices around handwashing, testing, protocols for PPE, and staff and Resident education, among other things. It is a great accomplishment that the surveyors had no concerns, especially at this time when the Omicron variant is surging."
Douglas Hughes, MDVA Deputy Commissioner - Veterans Healthcare, also recognized the outstanding survey results considering the Home's current construction projects. "The new HVAC project presents challenges, requiring the staff to move Residents around while ensuring the environment looks homelike. It is a huge accomplishment to achieve zero deficiencies during construction," he added. "We are meeting all Resident care requirements."
Because of COVID, MDH's survey process had been delayed. The Silver Bay Veterans Home had last been surveyed in 2019 which required the survey team to look back over two years rather than one, creating a very intense process.
"This result deserves a huge kudos to the Silver Bay team," Hughes said. "A zero-deficiency survey is unheard of in this period of time."
Both Hughes and Hogan credit the leadership of Silver Bay Veterans Home Administrator Dani Donner and Director of Nursing Pat Smedstad. The two leaders are "a tremendous asset," Hogan added.
Congratulations to the entire Silver Bay Veterans Home team for modeling the excellent Resident care and quality environment provided at all five of the State Veterans Homes.