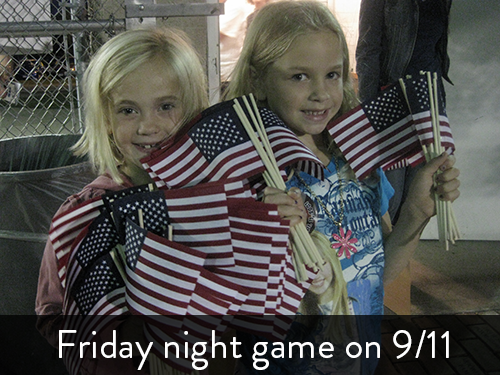 We all know someone in our community who has a passion for Veterans. Meet Steve Guider, an education technology paraprofessional, assistant football coach and head hockey coach at Blaine High School. When talking with Steve Guider, one central theme continues to resonate – his passion to honor Veterans.
Guider has always been patriotic and supported our military, but there were a few events and people in his life that really inspired him to do what he could to honor our nation's heroes. In 2009, Guider was the assistant high school football coach and a Friday night game happened to land on 9/11 which inspired him to plan something special. After speaking with the head coach, he was given the reins to do what he could and ran with it. That Friday night lights was one to remember - color guards from the Army, Navy, Air Force and Marines were present, a local Blue and Gold Star Mother carried in a giant flag (thanks to a local Perkins), there was a four-plane T-6 Thunder Aircraft flyover and even fireworks. During the event, Guider met a handful of Veterans who shared how appreciative they were to be honored. This really inspired him to continue to honor Veterans in every way he could. Talk about an inspirational and patriotic night.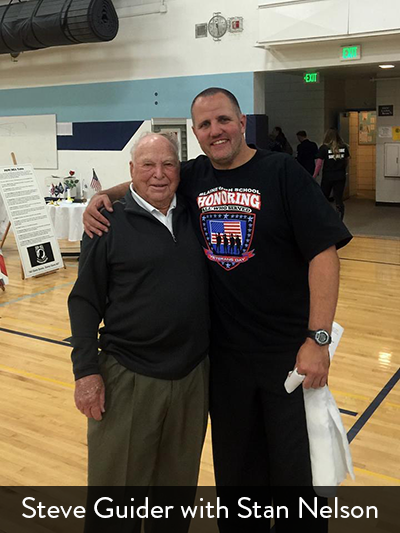 One Veteran who impacted Guider and inspired his desire to honor our men and women in the military was his uncle Daniel J. Guider. Guider's uncle suffered a severe stroke with a bleak outlook and pulled through after being removed from life support. It was then that Guider learned about his uncle's service in the Vietnam War. "Throughout my entire life, I never knew my uncle served in the military and I certainly had no idea he was a Vietnam Veteran. As we had watched the movie (We Were Soldiers), he had remarked that the scenes where they were under such heavy fire were pretty realistic for what he faced." Guider's uncle ended up getting wounded two battles later in the Battle of Bong Song. He suffered shrapnel wounds to his neck, shoulder, and chest. He ultimately was awarded the Purple Heart for his injuries.
Guider's uncle later passed away and a service was held at the Fort Snelling National Cemetery in which Guider carried the flag draped casket – he remembers the feeling being indescribable. It was the first military funeral he had been to – and in that moment he felt the bravery, courage, honor and heroism of his uncle.
Another Veteran who had a tremendous impact on Guider's life was Stan Nelson. Stan was the father of Guider's high school football coach, a mentor and more importantly a WWII Omaha Beach D-Day Veteran. Stan was a Lieutenant Junior Grade on the LCI 492 who dropped troops four times onto Omaha Beach on D-Day. "One thing that sticks with me that I can't get over is Stan is 100 years old, the Normandy Landing happened 77 years ago, and Stan still cannot talk about what he witnessed on June 6, 1944 on Omaha Beach," said Guider. "He will tell amusing stories of his experiences, he talks about the day before the invasion, he talks about the morning of, and coming across the channel to the beach, he talks about when they got 30 yards from the beach that they would throw their anchor out, then accelerate and hit the beach at full speed so they could ground themselves enough to get the troops off. Once the troops were off, they would use the anchor and the winch to help pull themselves off the beach. His next comment is always: and you know what happened after that."
Guider later learned there were three surviving members from the LCI 492: Stan, Peter Fantacone from Mays Landing, New Jersey and Jack Claiborne from Dyersberg, Tennessee. With lots of hope, coordination, donations and love, Guider was able to coordinate with Pete's grandson and bring him to Blaine for a Veterans Day program. Little did he know how special this moment would be; Stan and Pete hadn't seen each other in 75 years and were reunited. Guider felt something he had never felt before when reuniting a couple of old Veterans.
Guider later took a solo trip to Normandy where he experienced all the emotions while on Omaha Beach. "I get chills just think back to it. I remember the walk down the hill and stepping foot onto the beach. The tide was back so I walked closer to the water across from the cemetery. As I stood there I thought about Stan and his inability to speak about what he witnessed when his ship landed. Before I knew it, I was standing there in tears," said Guider.
These moments and Veterans inspired Guider to do all he could do to honor our military members. Guider went on to lead Veterans Day programs at the high school that would include students honoring our nation's heroes. Local Veterans Service Organizations, elected officials, local media and others would gather each year. Guider felt it was critical to share the importance of the value of service to our country. Guider then established a Veterans Memorial Park in Blaine which wasn't an easy feat: a $1.25 million project toward which he has raised $370,000. The park will contain 17 different monuments; there are currently seven installed with the eighth now in the works to honor women in service. Guider is still seeking donors and hopes this article helps to spread the word about this great project and encourages generous donors who will help complete the park. Steve can be contacted at s.guider@comcast.net or through the Veterans Memorial Park Facebook page.
We all can learn the importance of sharing our Veterans' stories in Minnesota. If you have a Veteran in your life, ask them about their service and they may just open up and talk about it and share their story. These stories will live on from generation to generation and are lost if they are never told.
If you have a story about a Veteran who has inspired you, please share with MDVA's Public Affairs Manager Beth Barstow at beth.barstow@state.mn.us.