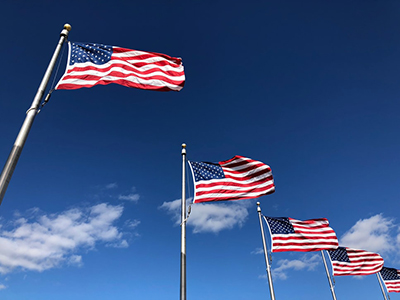 This Sunday, June 14, our nation will once again celebrate Flag Day. On this day each year, we honor the United States flag and commemorate its adoption. The flag itself, which has seen many battles and has earned many tears, scars, and tatters, is a symbol of hope. Much like our flag, America itself is resilient, and will survive the hardships that we face.
The history behind this important day dates to a June 14, 1777 resolution from the Second Continental Congress. This resolution christened our flag's iconic stripes, stars and field of blue. This is the symbol we now lovingly call "Old Glory." It has stuck by us through many iterations, presidencies and is a guiding light in trying times.
The Minnesota Department of Veterans Affairs (MDVA) Chief of Staff Mike McElhiney shared: "MDVA exists to support and honor Veterans - those who have fought, bled and died for our flag and all it represents. That symbol for us has been a beacon that carried us through some of our most challenging times. Today (June 14th) we will proudly display it, salute it and continue to honor it and what it stands for." 
As we continue throughout the second half of 2020, it is important to remember this message of strength. The set of values represented by this flag can never be stripped away – and we at MDVA will continue to uphold these diligently for as long as it flies above us.