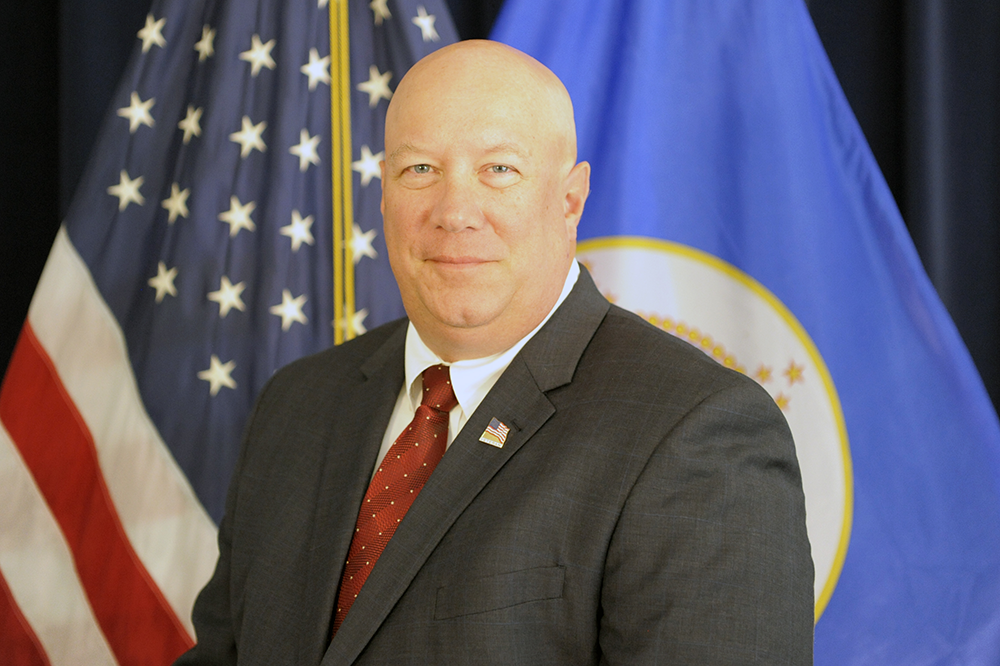 The fall season brings back to school, football, and for the Minnesota Department of Veterans Affairs, our annual Minnesota Commanders' Task Force Leadership Summit.
The Minnesota Commanders' Task Force (CTF) is comprised of nine of the largest Congressionally Chartered Veterans Service Organizations which provide benefits claims support and advocacy for Minnesota Veterans and operate as a unified forum in Minnesota to advise, address and support Veteran issues.
These organizations include:
Disabled American Veterans
American Legion
Veterans of Foreign Wars
Military Order of the Purple Heart
Vietnam Veterans of America
Jewish War Veterans
Paralyzed Veterans of America
Marine Corps League
AMVETS
The leaders for most of these organizations are elected annually and, as part of their orientation to their new roles, MDVA hosts the Leadership Summit training event. This year's meeting was held September 26 and 27 at Camp Ripley. MDVA Legislative Director Ben Johnson and Legislative Liaison Cole Trace coordinated the meeting and scheduled a variety of speakers to acquaint the CTF with many partner organizations.
The group learned about a number of topics and issues relevant to the Veteran community. Some highlights included:
Overview of the St. Cloud VA Healthcare System which includes the St. Cloud VA Medical Center and three community-based outpatient clinics in Alexandria, Brainerd and Montevideo. They serve more than 39,000 Veterans annually by providing comprehensive outpatient services, long-term care, acute psychiatric care and residential rehabilitation.
Greetings from Minnesota Legislators Rep. Rob Ecklund, Chair, House Veterans and Military Affairs Division; Rep. Bob Dettmer, Republican lead, House Veterans and Military Affairs Division; and Sen. Bruce Anderson, Chair, Senate Veterans and Military Affairs Committee. Rep. Bob Dettmer noted the initiatives that the House will continue to pursue next year:

One-time transfer of benefits allowed to continue receiving surviving spouse homestead exclusion
Military recruiters required to be allowed access to secondary schools for career fairs
Pull tabs, bingo and paddlewheel expenses allowed to be deducted from gross tax receipts

Grants available and awarded to Veterans Service Organizations through MDVA
Grants available and awarded to Veterans Service Organizations through V4V
Overview of the VA St. Paul Claims Office, one of 56 regional offices that serve U.S. Veterans. The office's priorities include:


Providing Veterans with the benefits they have earned in a manner that honors their service; they continue to focus on improving timeliness, increasing quality, and resolving legacy appeals.
Ensuring they are strong fiscal stewards of the money entrusted to them; they are applying financial management best practices to execute their budget.
Fostering a culture of collaboration; they are collaborating with all those who support Veterans: traditional VSOs, post-9/11 Veterans groups, state and county VSOs, Congress, GAO, IG, OMB and other federal agencies.

Overview of the Minneapolis VA Healthcare System which includes eight VA Medical Centers in Minnesota, North and South Dakota, Iowa and Nebraska, and a network of community-based outpatient clinics. In FY 2018, they cared for more than 102,000 unique patients and had more than 980,000 outpatient visits. They also offer a Community Resource & Referral Center, Adult Day Center, on-campus apartments, two Fisher Houses, and the Center of Integrative Health & Healing. 
Introduction to the Minnesota Military Museum located at Camp Ripley.
MDVA works closely with the Commanders' Task Force throughout the year. During the months of the Legislative sessions, the CTF acts as a strong advocacy force for the Department and Minnesota's Veterans at Legislative committees.
The Commanders' Task Force also partners with the Department to co-sponsor the State's Veterans Day program. Mark your calendar for this year's event: Monday, November 11 at the Veterans Memorial Community Center in Inver Grove Heights.