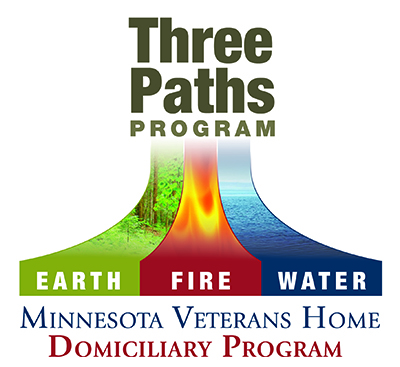 Recognizing the diverse needs of today's Veterans, Minnesota Department of Veterans Affairs (MDVA) has created three unique service pathways to provide the right level of care and support for each individual. 
The "Three Paths" program is offered at both Domiciliary locations in Hastings and Minneapolis. 
The Earth Path is designed for Veterans who choose to make the Minnesota Veterans Home Domiciliary Program their home. We want to ensure that all Veterans who are aging in place are getting the most out of life, while working with them to coordinate the next milestones in their lives. Through this program, we provide continued stability to ensure positive outcomes, provide a safe environment to maintain a high quality of life, encourage a balanced lifestyle to enhance a Veteran's holistic wellbeing, and help Veterans find motivation in each day. 
The focus of the Earth Path is on holistic health, community support, socialization and activities, supportive programming and groups, volunteer work, and financial wellness. Programs may include:
Wellness Groups
Meditation Groups
Journaling
Recreational Activities
Socialization Groups
Birdwatching
Who may benefit from the Earth Path:
Retired Veterans who would like to age in place at the Minnesota Veterans Home DOMS Program. They are working with Vocational Rehab to find a volunteer job to enhance their physical, mental, and social wellbeing.
Veterans who were isolated in their homes in the community. They are now living in the DOMS Program and are beginning to socialize through small group recreational therapy.
Veterans who were struggling at home to manage their medical conditions. After moving into the DOMS Program, nursing staff provide medication management, and Veterans see a medical provider regularly.
The Fire Path is for Veterans who want to return to living successfully and independently in the community. We want to provide an environment that encourages them to work toward achieving their personal goals of independence and self-sufficiency. We help them discover what is truly important in their lives to provide purpose, relevance, and joy on a daily basis. We assist them as they secure well-balanced financial, physical and emotional health, and we provide support and education for long-term success. Veterans in the Fire Path will work within six, 12, or 18-month timelines.
The focus of the Fire Path is on monthly income, transportation needs, employment goals, housing needs, financial planning, physical and mental health, community support and follow-up after discharge, and relationship-building skills. Programs that support different areas of independence may include:
Resume Writing
Interviewing Skills
Computer Skills
Living on a Budget
Financial Planning
Cooking and Shopping on a Budget
Resources Available in the Community
Who may benefit from the Fire Path:
Veterans who work full time in the community and are approved to enter the six-month transitional employment plan. After six months, they find a one-bedroom apartment near their work. They have saved enough money to move out with some savings and a monthly income that will enable them to pay bills and continue to save each month. The Veterans pass their probationary period at work and apply for healthcare benefits.
Veterans who have applied for SSDI and learn they have been awarded this payment with back pay to cover six months prior to moving into the home. With this benefit and an additional 20 percent-service connection, they feel they can live comfortably in a one-bedroom apartment and apply for Section 8 housing in the future.
Veterans who plan to apply for retirement benefits and feel that with the additional service connection, they can live comfortably in a senior housing apartment. They are on a waiting list and plan to stay in the local area.
The Water Path is designed for Veterans in need of mental health and/or chemical dependency support to ensure they receive care customized to their individualized goals. Through this program, we help Veterans discover what is important to help them thrive every day, ensure there is active engagement in the care plan, and encourage their personal wellness.
The focus of the Water Path is on supportive services, medication management, coordination of care, and crisis management. Veterans choose programs that are relevant to their unique situation and specific goals, in coordination with mental health and chemical dependency providers, as appropriate. Programs may include: 
Recovery Recognition Day
ARS Clinic
Psychiatry
Integrative Dual Disorders Groups
Community Self-Support Groups
SMART Recovery
Recreation Therapy
Vocational Rehabilitation
Developing a Variety of Treatment Options
Walking Group
Who may benefit from the Water Path:
Veterans who might be living with a diagnosis of schizophrenia with periods of depression and want to stay in bed all day. With the assistance of staff, they can create goals to help improve their mental-health symptoms and participate in recreational activities or the work therapy program.
Veterans who might need support to maintain their sobriety. They may want to work with the chemical dependency counselor on a relapse prevention plan that includes attending SMART Recovery groups and one-on-one meetings with the chemical dependency counselor.
Veterans who might need help achieving their mental health and chemical dependency goals. Perhaps they have not used alcohol for a year, but currently smoke cigarettes. They see a mental health provider at the Veteran Affairs Medical Center once a month for anxiety. They plan to quit smoking and save money so they can transition to the Fire Path and back into the community.
For more information, contact the Domiciliary Program at (651) 539-2400.