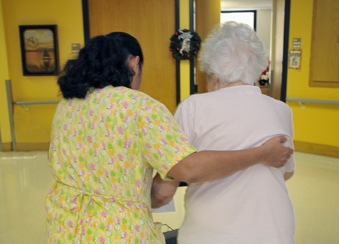 Are you interested in a career in healthcare? Do you want a job in a high-demand field? Think about becoming a Certified Nursing Assistant!
The Twin Cities area is experiencing a critical shortage of certified nursing assistants (CNAs). Certified nursing assistant is a high-demand role in the healthcare field. CNAs enjoy much job satisfaction providing compassionate, person-centered care for Residents in long-term care nursing facilities as well as other settings. And the CNA role is a rewarding career in itself or one that can lead to a professional career as a licensed practical nurse (LPN) or registered nurse (RN).
In just seven weeks, you can complete training that will prepare you to take state registry exam for certification. Once certified, CNAs will find many job opportunities including at the Minnesota Veterans Home Minneapolis. 
The Minnesota Department of Veterans Affairs (MDVA) is partnering with Inver Hills Community College to offer Certified Nursing Assistant (CNA) training taught by Inver Hills nursing faculty onsite at the new MDVA Education Center located in Minneapolis by Minnehaha Falls. 
The seven-week Nursing Assistant Certificate course will be offered  up to three times a year with a new cohort starting every seven to eight weeks. Classes for the next cohort start October 22, 2019 and run to December 16, 2019. Register here.
Bonus: the cost of course tuition is reimbursable!
Upon successful completion of the Nursing Assistant/Home Health Aide Program and after passing the State of Minnesota Competency Examination, students are eligible to apply for reimbursement from a Medicare/Medicaid-funded long-term care facility, when hired by that facility and provided the new employee meets all the requirements of the hiring facility.
Interested? Learn more here.