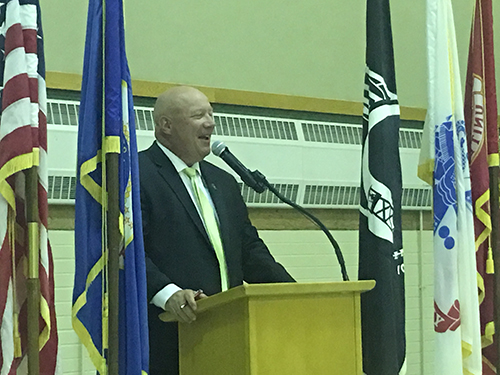 On July 22, Hastings-area Veterans attended a Town Hall/Listening Session facilitated by MDVA Commissioner Larry Herke, State Sen. Karla Bigham, State Rep. Tony Jurgens, and U.S. Representative Angie Craig. The State Legislators recapped the 2019 session noting bi-partisan financial support for Veterans and successfully passed bills that will benefit Veterans and their families. They also noted disappointments that they plan to resubmit in the next session regarding Restorative Justice for Veterans and an increase for the per diem payments to Veteran Residents of the Minnesota Veterans Home – Hastings Domiciliary Program.
Commissioner Herke thanked the elected officials for their past support, and noted that MDVA will advocate for funding for not only the three proposed new Veterans Homes, but for the ongoing maintenance and improvement of the five existing Veterans Homes. He recalled his recent visit to the Hastings campus when he thoroughly inspected the facilities to gain first-hand knowledge of their needs.
MDVA leaders also attending the event included Deputy Commissioner - Veterans Healthcare Douglas Hughes, Senior Director - Veterans Healthcare Simone Hogan, Hastings Home Administrator Mike Anderson, and Legislative Director Ben Johnson.