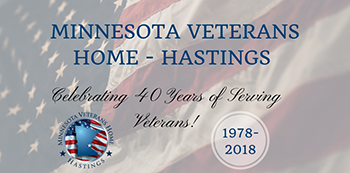 The Minnesota Veterans Home - Hastings campus is celebrating a monumental anniversary this year; it has been a home to Veterans for 40 years. The Hastings Home was established in 1978 to assist Veterans struggling with chemical dependency, mental health illnesses, the effects of aging and much more. Today, the Domiciliary program provides a safe home environment for approximately 130 Veterans of varying ages and medical conditions. This facility finds its home in Hastings, Minn. – a small river community that truly supports Minnesota's Veterans. Residents can benefit from the peacefulness of this serene campus, or have the option to be active in its quaint community. With events like the Memorial Day Ceremony and Rivertown Days – the Veterans community is always a constant focus.
"We are thrilled to welcome new leadership to the Veterans Home Domiciliary Program. A new Director of Nursing joined the team in the summer of 2017, and soon a new Administrator. The Domiciliary model is evolving to better meet the needs of our Veterans. Leadership has a clear vision for the upcoming year – which is to provide a more modernized care delivery system with support to enhance clinical care and more attention to collaboration with the community," said Simone Hogan, Senior Director of Veterans Health Care at the Minnesota Department of Veterans Affairs.
Over the last 40 years, the Hastings Home has stayed committed to providing a wide range of high-quality care and services. Sobriety maintenance, vocational rehabilitation and educational services are just a few of the specialty programs offered on site. The Hastings Home emphasizes rehabilitation and community involvement, as well as supportive care for the Residents' lives.
The peaceful atmosphere and natural beauty surrounding this campus makes it easy for Residents to appreciate their time here. The 128-acre wooded campus includes nature trails, a biking path, an outdoor pavilion, a cozy screened porch open year-round and woodworking shop, among other things. The Hastings Veterans Home is also unique in its close proximity to Minneapolis and St. Paul. Being 25 minutes away from the metro area puts the Hastings Home at an ideal distance.
"I have been working at the Hastings Veterans Home for thirteen and a half years and it really is a great asset for Veterans and the community. It is a hidden gem in Hastings," said Vickie Davidson, Licensed Practical Nurse at the Minnesota Veterans Home – Hastings.
Those who live and work at the Minnesota Veterans Home - Hastings campus are part of an established community that is excited to celebrate 40 years of service.